Teachers Group Airs Salary and Free Speech Grievances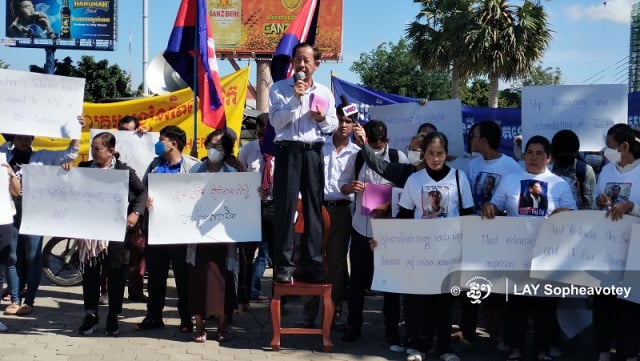 PHNOM PENH – The Cambodian Independent Teachers' Association (CITA) has called for the government to increase the minimum salary of teachers to a quarter of the salary of members of parliament and end restrictions on the political participation and expressions of teachers.
Celebrating World Teachers' Day on Oct. 5, around 100 teachers, students, parents, and unionists from the provinces gathered at Freedom Park – also known as Democracy Park – in Phnom Penh to celebrate the occasion after a two-year-suspension due to the COVID-19 outbreak.
During the gathering, CITA showed a 10-point petition submitted to the National Assembly, the government and the Ministry of Youth, Education, and Sport. The petition called for a salary rise, provision of other benefits, an end to discrimination against the teachers who are members of CITA, and freedom of expression for teachers.
Former CITA head Rong Chhun said the pandemic and the spill-over effect of the Russia-Ukraine war had hit teachers' livelihoods hard. Since late 2017 when the Cambodia National Rescue Party was legally dissolved, freedom of expression, human rights and democracy had deteriorated, he added.
Many teachers associated with the party had seen challenges while some had lost their jobs.
"This termination of the teachers was politically motivated," Chhun said, adding that some teachers who came to the event might be summoned for questioning when they went back to their schools.
Also, a prominent union leader and rights defender, Chhun asked the government to increase the minimum salary of the teachers to a quarter of the MPs' rate of more than 15 million riel or roughly $3,750.
He urged people to register for the national election next year so that they can choose their effective leader wisely.
Ministry of Education spokesperson Ros Soveacha said the ministry had been trying to improve the livelihood of teachers by increasing their salaries continually.
He said a teachers' salary in 2015 was between just over 500,000 riel and 1.2 million riel or roughly $125 to $200, while teachers' salaries in 2022 were 1.2 million riel to 2.1 million riel or roughly $300 to $525.
Prime Minister Hun Sen has said that from the beginning of 2023, teachers' salaries will be at least 1.5 million riel or $375.
Soveacha told Cambodianess, "The Ministry of Education, Youth and Sports focuses on improving the living standards and qualifications of teachers to contribute to improving the quality of education."
Leng Penglong, Secretary-General and spokesperson of the National Assembly, said teachers and MPs cannot be compared in terms of salary as MPs have many duties and privileges.
The salary of MPs was around six to seven million riel or roughly $1,700-$1,750, but with benefits and support from Prime Minister Hun Sen, their salary was made up to 15 million or 16 million riel.
"It cannot be compared as MPs have been granted money for missions, guess receptions, house rentals, chauffeur fees, assistance, health check-ups, fuel and other materials, while they are also given $500 from Samdach Hun Sen to buy cars," Penglong said.
He said the National Assembly had sent a representative to accept the petition.
Intimidation for the teachers
Ouk Chhayyavy, president of CITA, said teachers gathered at Freedom Park to celebrate Teachers' Day despite having their names recorded at their school before they came.
The teachers showed courage to come as they see their freedom of expression and participation deteriorating while their salary was also low, given that they had put much effort in their career.
"This day should be taken as a normal working day," Chhayyavy said. "They gather here, but they are scared and feel intimidated."
Kien Ponlok, a teacher at Sokh An Kdei Tonteum High School in Takeo province, said he came to the event because he had seen the freedom of teachers worsen while their salary was still low.
They were forced to have a side job and offer extra classes for money. The extra classes also affected the livelihood of students.
He said teachers who had different leanings from the government or were CITA members had faced countless discrimination and intimidation by having their names removed from the Education Ministry.
"If the government withdraws the names of the teachers because they join CITA or express their opinions, I think the government is not a government that adheres to true democracy," Ponlok said.
Having been a teacher for 12 years, Ponlok, now 33, urged the government to increase the minimum salary to at least 2 million riel or roughly $500 as demanded by the association. He also wanted the government to ease the restrictions on teachers voicing their concerns and opinions.
He revealed that during the event, someone from the Ministry of Education phoned him and asked where he was and many questions. Ponlok said what he was doing risked having his name removed or being summoned once he is back at school. However, he would continue his action with CITA for the rights of teachers.
According to the CITA petition, 11 teachers have been removed from the framework of the Education Ministry, while the group called for the release of five teachers​ who are also former activists of the court-dissolved opposition party. They have been arrested for incitement.
Related Articles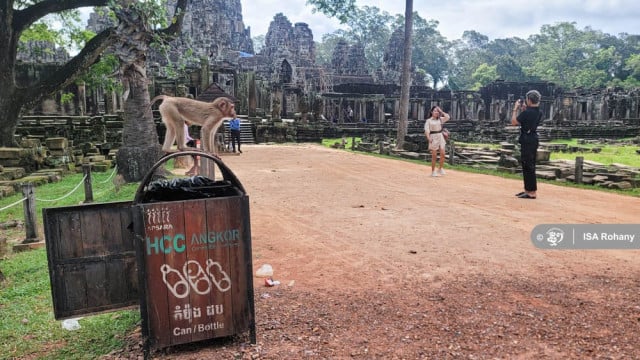 September 4, 2023 3:00 PM