Teaching Comes Full Circle for Artists Sareth and Maline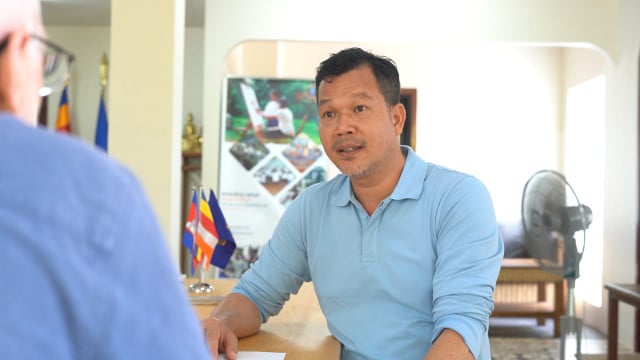 SIEM REAP - When a volunteer art teacher handed a pencil and paper to teenage Svay Sareth, his horizons instantly expanded far beyond the fringes of the Thai border camp for Cambodian refugees where his family sheltered.
Sareth spent that night in a creative frenzy and wore the pencil down to a stub.
It was the start of a lifelong journey as an artist which he has shared with his wife and fellow artist Yim Maline. Both have carved out careers which have seen them take part in major exhibitions and residencies around the world.
Their works are on show in galleries from Japan to the United States and are sought after by corporate buyers and private collectors.
Singapore's Art Museum knocked out part of a wall to accommodate Sareth's installation piece Mon Boulet, a giant metal ball he once dragged from Siem Reap to Phnom Penh.
Now the wheel is turning full circle and the couple are setting up a school for young artists from their home and Blue Art Center studio in Siem Reap. Their vision is for the rebirth of Cambodian art which suffered greatly during the rule of the Khmer Rouge from 1975 to 1979.
Sareth's father had been a soldier in the army of King Sihanouk and had fled fearing reprisals. The family, from Battambang, followed, which was why the young Sareth found himself in Site II refugee camp.
It was there that French humanitarian worker and former art student Veronique Decrop introduced Sareth to the freedom and limitless creative possibilities of the art world.
"The first time I got a pencil I finished it in a night. If you wanted a new pencil you had to bring the stub of the old pencil to exchange for a new one," he said.
"I was so excited because I found the white paper was like the universe. We have power to create what we want.
"It was like magic for me. If you decide to draw a plant you draw a plant. If you want a man running you draw a man running. It's like the beginning of the connection from the imagination to reality.
"It was fantastic. I also considered art as a medicine to cure me of the drama and history of Cambodia and cut me out of the sad stories and bad memories.
"This was the power of art in my mind. And then art continued to build my life."
Later, he taught art in a local school in return for food but after several years he realised he was at the limit of his art knowlege.
"So, in 2002 I travelled to France with a one-year scholarship from the CCFD Catholic association. I spent a year in a preparatory class. After that, my wife and I needed to work hard to sponsor ourselves. I continued my studies until my master's degree.
Sareth and Maline, who also trained in France, decided against settling in Europe. "I love France. I love every country but most of all I love my country," he said.
"But I had to do something for my country. I had a responsibility to engage with it. I came here to start my artist's career.
"The school is my dream and my wife's dream. When I went to Angkor Wat temple in 1994, I stood in front of a lion and I cried.
"I don't know why. This image touched me and I thought that one day I will move to stay in Siem Reap," said Sareth who, with Maline, had already co-found Phare Ponlieu Selepak art school and NGO in Battambang.
The Siem Reap school has been launched on a pilot basis, teaching about 15 or 20 children of the couple's sculpture business workers but with no donors or sponsorship apart from Sareth and Maline.
However, their vision extends far beyond teaching children to draw and paint.
The Cambodian art scene had been devasted, along with the rest of the country's intellectual resources, by the Khmer Rouge. What remained of the art community had not kept up with developments in the rest of the world.
There was no Khmer word for installation or performance art such as Mon Boulet, which symbolised the burden Cambodia must continue to bear from its troubled history.
"I would like to start a new period of art in the contemporary century," Sareth says. "If I want to start here I need to train young people to understand the importance of art because everything was lost or destroyed in the war.
"Cambodia has been rebuilt economically and in education, everything but art, so we need to participate in the development of our country. It is our responsibilty."
The couple have encountered resistance from people who think of art only in terms of statues and bas-reliefs such as the Ramayana Hindu mythology on the walls of Angkor Wat.
"Speaking about art in Cambodian society is very strange because they are not used to the idea that art is important and we need to learn about art in our lives," Sareth says.
"We need to spend time with people so that they understand."
One Maline's works is of layers of carboard glued together and burned with charcoal. It represents human disregard and destruction of nature but the symbolism can be lost on people unaccustomed to the language of contemporary art.
Some people ask Sareth why they create Western art.
"I tell them I don't. I am a Cambodian and I create Cambodian art," he says.
"Angkorian art in Cambodia is from the past, from people who created and built it for us.
"They created it from their imagination, from political support, from creativity. Now, in the 21st century, art is created in a different form.
"We can make sculptures from aluminium from other metal, from resin, or other material. This modernises our thinking in developing our concepts as an artist of the 21st century.
"First I want to preserve our tradition by teaching our traditional skills to our students and then we will see which of our children want to move to contemporary art.
"If they want to move, we guide them to contemporary art. We don't force them.
"A lot of students are confused because they think contemporary art is easy, like abstraction, but we don't want to create an easy contemporary art school either.
"The art school is also a free space where students can come and express themselves freely, maybe think critically about what they see in society. It can come maybe from love or the environment, nature or politics. They can come here and use art as a tool to express this too.
"I feel we have come to an urgent time for Cambodia which needs to highlight art education in the education system from primary schools to high schools and create more art universities. Everything you see is from the creator. Without creators, how do you build a country?"
However, he says there are only about ten contemporary Cambodian artists in the country and no major gallery to display their work. A long-term goal is to convince authorities to establish such a venue.
"I see the contemporary art world is still moving but Cambodia is not part of it yet," he says.
Thanks to all the artists from South East Asia including Richard Koh Fine Art for participation in our extension classroom, the building next to our school, at the end of 2019 and the beginning 2020 - Svay Sareth
Related Articles