Technology Company Aims to Elevate and Digitalize Community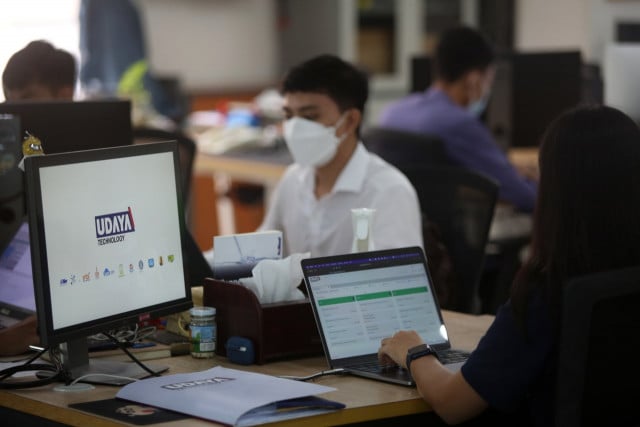 UDAYA Technology, a Phnom Penh-based ICT company, is using high-tech and digital automation to revolutionize crucial sectors as the Kingdom continues on its digitalization journey.
Cambodia's adoption of technology looks promising as the country's logistics sector becomes digitized, claims a business executive who has been at the helm of a technology firm innovating advanced platforms in the field for more than a decade.
Mr. Keo Reasmey founded UDAYA Technology, a Sanskrit word meaning something new, fresh, and profitable, in 2010.
A graduate of the National University of Management, Mr. Reasmey worked for a private organization from 2002 to 2006. However, he was always seeking ways to contribute to his society hence becoming an entrepreneur. After then, Mr. Reasmey went on to enhance his knowledge with courses on management, marketing and human resources at various local and international institutes.


In 2009, he began venturing, which led to UDAYA Technology launching a year later.
The company's Managing Director, dressed casually as he recalls how he created UDAYA Technology with the mission of being a technology modernization partner for a thriving community for all.
"Everything is moving as you planned but along the way, it is very difficult because we had a limited number of innovators, and developers. It was very struggling as we had a small number of customers."
Back then, UDAYA Technology consisted of only 12 staffs, with Mr. Reasmey, General Manager at the time, actively involved with the company operations while other founders and investors opted to be "silent partners"
Currently, UDAYA Technology has expanded its operations and employed almost 70 staff – mostly energetic, resilient, young people – in a mid-size office located in Teok La'ak 1, Toul Kork District.
"As Technology rapidly becoming an integral part of Cambodian society, there a lot of potential in every aspect and sector hence our vision is to improve to society and community lifestyle through advanced technology"


"What we can see in the future of Cambodia is that technology has a very high potential in every aspect and sector and our vision is to improve society and community lifestyle through advanced technology"
With plenty of experience in the market along with a decade of research and development, UDAYA Technology believes it is capable of contributing to society through technology integration which enables society to maximize the advantages of digitalization. "It will be very beneficial for all of us and that is what we are working on, that is our everyday vision", Mr. Reasmey said.
Royal Government's Cambodia Digital Economy and Society Policy Framework (2021-2035) have been very crucial in encouraging and influencing Cambodians to integrate their livelihood with digitalized society, and along with the Covid-19 pandemic breaking the normal norms, technology adaptation has become an integral part of every aspect in rapid pace and much more beyond expectation.
UDAYA Technology is working to innovate and upgrade digital platforms for various sectors, and improve people's perspective on technology.


With the electronic medical platform, UDAYA Technology hopes to maximize the potential of the health sector with the help of its platforms.
When UDAYA Technology started, the company initially focused on the health sector, realizing how potential the sector is and Mr. Reasmey is determined to bring about change.
"What I found in 2010 was there were a lot of complaints about the healthcare sector in Cambodia. I asked myself that being an entrepreneur, what can I contribute my knowledge to society? So, I embarked on a mission to help solve these problems using my knowledge and technology in order to make a very good, and robust medical record system."
"I believe that if all the hospitals and clinics have good management systems, they will be able to improve their efficiency and efficacy, as doctors and nurses will have a much easier time doing their jobs. We are bringing new experiences for doctors, nurses, and healthcare professionals to operate their tasks as well as improve hospital and clinic business operations, to be more effective, efficient and faster."
In the beginning, UDAYA's EMR System could only record patients' names and ages. Currently, 34 hospitals and clinics (in both Public and Private institutes) using the digital platform services, mainly in Phnom Penh, with an expansion plan to more provinces is imminent.


Concurrently, the global pandemic has led to the huge growth in industrial logistics in Cambodia, and UDAYA Technology has taken advantage of the boom via its technology, serving clients in the logistics sector. "The logistics services in Cambodia are growing rapidly, and we are proud to play a part in the growth. We are very optimistic that Cambodian society will be more adaptive to technology in the coming years, and we are working very hard to promote and ensure that"
UDAYA Technology is providing the platform and facilitates the movement of more than 3 million packages to run through it monthly, quadrupled from that of 2020 figures.
"UDAYA Technology's involvement with health and logistics sectors is very valuable, and provides crucial insights and experiences, enabling us to expand our focus to other potential sectors as well," he said, as the company dove deeper into technology development by innovating a wide range of advanced digital management systems to offer to businesses in various sectors such as Healthcare, Logistics, Accounting, Education, Hospitality, as well as industrial automation and Batching Plant management system.
Related Articles