Thailand's English daily giant The Nation ends print edition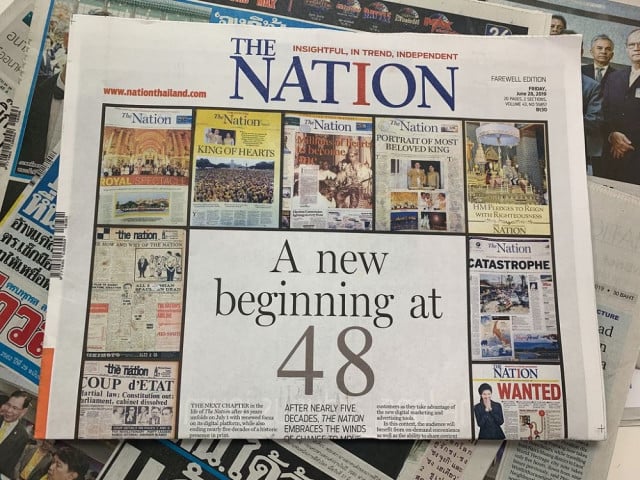 Xinhua
June 29, 2019 6:04 AM
BANGKOK -- The Nation, one of Thailand's two English dailies, on Friday published its last print edition after 48 years on the newsstands and will continue with an online version.

"Undoubtedly, the new chapter is challenging but it also contains rich promises since it comes hot on the heels of technological disruption which has swept virtually every sector of the economy and people's way of life," the newspaper said in its front-page farewell message headlined "A new beginning at 48."
The CEO of The Nation Multimedia Group Somchai Meesaen earlier said the newspaper will switch to digital platforms starting on July 1 because its profit has declined in the past decade.
He said The Nation required changes because only around 26 percent of its readers are Thai, while around 70 percent of its readers are foreigners who may not have access to the print newspapers.
He added most of its readers aged 25 to 40 use the new media platform.
The Nation has been losing money at a rate of around 30 million baht (about 1 million U.S. dollars) per year for about the past 10 years, media quoted Somchai as saying.
The Nation was founded on July 1, 1971, when foreign companies dominated Thailand's English press.
Related Articles