Thailand's Military Chief Assures Cambodia of its COVID-19 Measures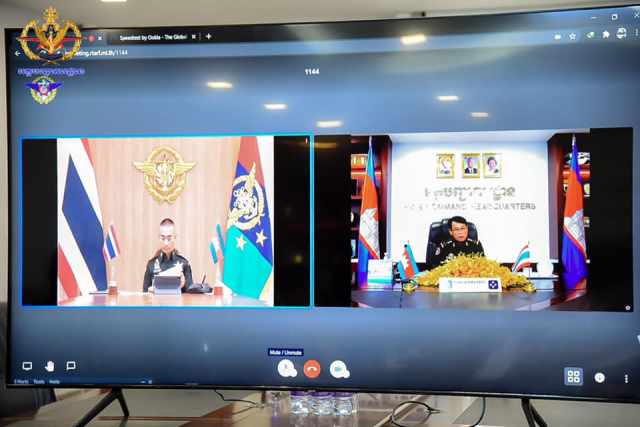 Lay Sopheayvotey and Torn Chanritheara
December 22, 2020 1:50 PM
The latest COVID-19 outbreak in Thailand's migrant worker dormitories has sparked concerns for the wellbeing of Cambodians working abroad, with many attempting to return to escape the virus.
PHNOM PENH--Thailand's Chief of Defense Force General Chalermpol Srisawasdi on Dec. 22 assured his Cambodian counterparts that strict measures to contain COVID-19 will protect Cambodian workers.
The reassurances came as General Chalermpol spoke with General Vong Pisen, Commander-in-Chief of the Royal Cambodian Armed Forces via videoconference, according to a statement issued by Cambodia's military.
The Bangkok Post reported that, on Tuesday alone, as many as 397 migrant workers were infected in Thailand's Samut Sakhon Province, located some 300 kilometers from the Cambodian border. Thailand is currently in the grips of a local outbreak of COVID-19 which is believed to have originated in migrant worker dormitories.
The dormitories are often squalid and cramped, making social distancing and good hygiene practices almost impossible. Tuesday's cases bring the total number of infections among migrant workers to 1,273, according to the Thai Enquirer.
Since this outbreak, the Thai government has vowed to test some 20,000 migrant workers in the next few days after the outbreak has spread to six Thai provinces, prompting concerns over the welfare and wellbeing of Cambodians living and working abroad.
"The Chief of Royal Thai Armed Forces said that so far Thailand has taken strict measures to prevent the spread of the disease to Cambodian workers and asked Cambodia to have confidence in this action during the COVID-19 pandemic," the statement read, adding that if people are found to have contracted the virus, their safety will be taken care of by the Thai authorities.
According to the statement, General Chalermpol told General Pisen during the meeting that in the current situation, the Thai side has facilitated the access of Cambodians to seek medical treatment despite the closure of the border.
Pisen expressed appreciation to his Thai counterpart on the enablement of border crossing for Cambodians seeking medical treatment in Thailand.
Keo Vanthan, spokesman for the General Immigration Department, told Thmey Thmey that over the course of Dec. 20 and Dec. 21, an estimated 386 workers have returned from Thailand after the outbreak.
Among them, 286 workers returned through O'smach checkpoint in Oddar Meanchey Province, while 74 returned through Poi Pet in Banteay Meanchey and 26 others returned through Doung and Phnom Dey checkpoint​ in Battambang Province.
"Police officers at the border checkpoints, especially at corridors, are patrolling left and right within their jurisdiction. We also take measures to stop the returnees before handing them over to health officials for a thorough medical check-up. In addition, we also reminded the officers to keep their distance and maintain hygiene," Vanthan said.
Dy Rado, deputy governor of Oddar Meanchey, said that the province has prepared three quarantine locations. Chhoeun Kraiyong, head of Koh Kong provincial administration said that his province has also prepared facilities in all districts for quarantine purpose.
Cambodia's government has ordered stringent measures to control the movement of people along the Thai border in response to the outbreak. Authorities have been instructed to remain vigilant and carefully check all incoming travelers who are required to undergo a 14-day quarantine to prevent the spread of COVID-19.
As of Dec. 22, Cambodia has recorded 363 cases of the virus, with 345 of those having since recovered and no deaths officially linked to COVID-19.
Related Articles