The Angkor Archeological Park Is Undergoing a "Spring Cleaning" Thanks to COVID-19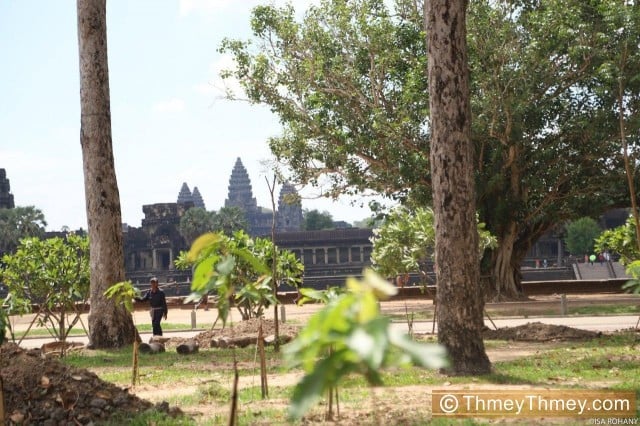 Isa Rohany
June 1, 2020 2:13 AM
The authorities are handling a series of projects while there are few visitors in the park
SIEM REAP—The Apsara National Authority has been taking advantage of the decrease in visitors at Angkor to tackle landscape and site management projects that are more difficult to carry out when thousands of visitors roam over the park.

"We have been preparing flower gardens and planting over 3,000 valuable trees as well as decorative trees in the park in front of Angkor Wat," said Yith Chandarath, deputy director general of the Apsara authority, the government institution that manages the Angkor Archeological Park.

The Apsara staff has been handling infrastructure repairs and other projects such as relocating the scattering of stores and shops in front of Angkor Wat to a new location now under construction—a location that will be more appropriate as activity around those shops could be somewhat unruly at times, Chandarath said.
All the work carried out is done to better accommodate visitors while taking into account environmental wellness and the protection of the monuments, he said. Hopes are that both domestic and foreign tourists will see a much more splendid environment at Angkor when they return, he added.

Due to the pandemic that has virtually paralyzed international travel and tourism worldwide, Angkor park has been uncommonly empty of visitors this year. During the first four months of 2020, Angkor has attracted around 380,000 tourists, which represents a drop of 60.5 percent compared to the number of visitors during the same period last year.

But Chandarath remains optimistic about the future. "[A]fter the crisis, there will be a gradual return to normalcy," he said. "It will begin from a movement of domestic tourists to an increase of cross-border traveling by international tourists."

In the meantime, it is imperative to focus on site maintenance and management, Chandarath stressed. Site improvement will help support tourism development projects in Siem Reap Province and attract people to the area once the pandemic is over, he said.

As of June 1, Cambodia had reported 125 cases of Coronavirus Disease 2019 (COVID-19) across the country. Among them, 123 patients have recovered and two remain under treatment in hospital.
Related Articles