The Angkor Park: A Living Heritage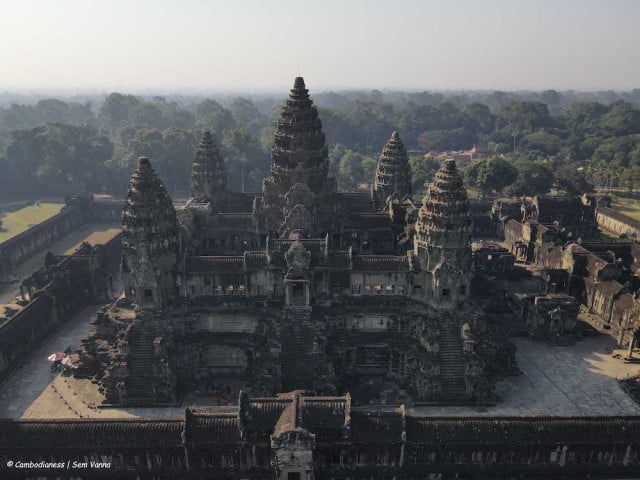 A few kilometers away from the busy capital of Siem Reap Province, an ancient and tranquil cityscape stands in a green jungle setting filled with the song of cicadas and the calls of monkeys. A magical landscape that transports people 1,000 years ago when Angkor was the capital of a powerful empire that was dominating the region.
As the sun rises to the East above the morning mist, its rays bounce over the towers and vast galleries of Angkor Wat, its moat filled with water surrounding this immense, golden structure and forming a blue ribbon as far as the eye can see. The style and engineering of this 12th century structure are proof of the genius of Angkorian builders who erected this massive temple at the request of King Suryavarman II. And today, nearly 900 years after its construction, Angkor Wat never fails to take people's breath away.
As an emotional connection is made between visitors and the monuments, Angkor's natural setting and the villagers who live among the temples add to the aura that makes this archeological park so special for them. Loun Lorng, who is now in his late 60s, is part of a family that has been living at Angkor for five generations. This started with his grandfather, then his father and himself followed today by his children and grandchildren who are growing up in the land of the temples.
Lorng has lived since his youth in the village of Trapeang Ses, which is situated between Angkor Wat and the Bayon temple, strolling among the countless temples in a natural environment that has little changed over the centuries.
With the assistance of the Apsara National Authority's specialists, our ThmeyThmey News team and ThmeyThmey journalist Ky Soklim recently travelled along a narrow countryside dirt road, cutting through lush rice fields, to meet Lorng. A location that we never knew existed in this part of the Angkorean forest. When we arrived at Lorng's house, he came out and welcomed our team with the traditional Cambodian sampeah salute. He then introduced us to his family and took us on a tour of his home and the land he farms.
Loun Lorng: I have 9 children in total. My grandfather was born and lived here. The same thing goes with my grandmother. Also, my father was born here. But, his house was actually over there.
Ky Soklim: Your father?
Loun Lorng: Yes, and when he married my mother, he built his house here. Then, I was born here alongside my many other relatives. We all were born here.
Loun Lorng: We used to playfully climb up the temples and it was a very happy time. When we were young, we only thought about playing. My grandparents just sat there and watch us play. We went from one place to another. Since we were so small, the elders did not dare bring us up to the top because it was hard for them. We did not dare to climb to the Bakan (Angkor Wat's top floor).
Loun Lorng's family is one of the thousands of families who have been living at Angkor over the last thousand years. As a person who was born and raised on the land of the capital of the Angkorian empire, Lorng shared with Soklim memories of growing up among the temples of the Angkor Park.
Ky Soklim: Did you ever see animals before, when you were younger? Animals like cicadas or monkeys?
Loun Lorng: Oh, there were so many. About cicadas, there are a lot of them, in the past until today. For monkeys, well, they still remain quite abundant until now. Yet, regarding the wild monkeys, I just don't know where they all went. And for the bats, they seem to have just disappeared too. There were so many bats inside the Angkor Wat temple. They flew out of the temple to the north. When I looked at them, they were so compact. At 4 in the morning, they flew back into the temple. They made a "hooo" sound when they returned.


The Angkor Archeological Park spreads over more than 400 square kilometers. Within its boundaries, there is a rich biodiversity, fresh-water streams, lakes, irrigated canals and moats among which stand the temples and a population with a rich culture and traditions. Loun Lorng, who is father to nine children, has obtained a position with the Apsara National Authority working as caretaker of the temples. He also is considered a person who contributes to making Angkor a living heritage site. As he has been preserving the ancestral traditions; growing rice, fruit and vegetables; and raising farm animals, Lorng, with his distinctive Khmer accent that is typical of the people of Angkor, is viewed by anthropologists as well as the authorities as an individual who helps make Angkor Park and its temples even more special, and contributing to the Province of Siem Reap as a whole.
Loun Lorng: I always do it. Back then, I had to grow rice over there as well in order to get enough.
Ky Soklim: So, this rice field has been cultivated since your father's generation?
Loun Lorng: Yes, both my father and my grandfather. My grandfather did it. My father also did it. When my father was no longer here, I was here and am still doing it.
Ky Soklim: This same rice field?
Loun Lorng: Yes, this same rice field.
Having been affected by wars and abused by the forces of nature for hundreds of years, Angkor obtained in 1992 the protection and prestige of being put on the Unesco World Heritage List. The site, as many experts as well as visitors have said, is one of the gemstones of historical and tourism sites around the globe. A unique site that reflects pages of the country's history as well as its rich cultural heritage, it is set in a preserved natural setting that makes it a unique tourism asset. And, to put it simply, it is alive. It is alive in the sense that, when it was put on the World Heritage List, Angkor was home to a population of around 100,000 residents who had been living there for decades if not generations, as in the case of Loun Lorng. These residents have long integrated their livelihoods into their traditions. To better understand the Apsara National Authority's policy to preserve the Angkor community and its traditions, Ky Soklim has interviewed Long Kosal, spokesperson of the Apsara National Authority.
Long Kosal: The city of Angkor, in its overall meaning, does not only refer to the temples themselves. It is a combination of the temples, the surrounding environment, the forest, the nature and the community that exist around them. All these combine into a broad concept that refers to the city of Angkor and enables Angkor Park to become a living heritage. This is a definite meaning that we can all witness in Angkor Park. In that case, if the people who are part of Angkor Park were told to leave this place, well, it would become something inaccurate. This would plainly lead the Angkor Park to lose a portion of its value. Just as we have known from the history of Cambodia, there is no any single period of time during which the Angkor Park was abandoned. The Angkor Park has been taken care of by the people for many generations in very circumstances. During the 20th century, even though the temples were rediscovered by the French explorers, the Cambodian people themselves have never abandoned this site.
The temple of Angkor Wat was constructed in the first part of the 12th century by King Suryavarman II. Nearly a millennium later, this gigantic monument still stands. However, its surroundings have not fared as well due to wars and the destructive forces of Nature. Some large trees have fallen down. Old houses have been eroded by heat and rain. Older generations of residents have faded away as new generations came to replace them. But even though its surroundings have changed through time, Angkor Wat still resolutely stands as a powerful historical symbol. And for some families, the temple's surroundings continue to be home, having lived through pages of history and scores of agricultural cycles. Among the researchers who have studied the Khmer civilization of the Angkorian period and the Cambodians of today is Cambodian ethnologist and anthropologist Ang Choulean who has written numerous books on the culture, traditions and livelihoods the people of Angkor across time. Choulean is a professor of anthropology at the Royal University of Fine Arts in Phnom Penh. He also is an advisor to the Apsara National Authority. Ky Soklim went to interview Choulean at his home in Phnom Penh—a home surrounded by trees as if it was in the middle of a forest. Choulean spoke of the people at Angkor whose lifestyle and customs may go back to the time the temples were built.

Ang Choulean: For the people who are currently living within the Angkor Park, the majority of them might actually have ancestors who built the Angkor Wat temple. This is just my assumption. I do not have any real evidence. Nevertheless, those [ancient] people had continued many of their generations here. Their language has not changed and their accent really sounds like the accent of the Angkorian people. They do not sound like the Phnom Penh [city] people. At times, some of the people there are the direct bloodline of the people who built the temples in the past. Yet, if that is too much of an assumption, these [present day] people may still carry the tradition of Angkor deep within them [even if they are not direct bloodline]. I am an anthropologist. I frequently conduct research on beliefs and traditions, and especially on many of the ceremonies around Angkor Park. I have been doing this kind of research for almost 30 years now. I know that there are still many traces, which still exist within it. There are still traces of the religion of Brahma and many other ancient Angkorian traces. For those who do not notice it, do not know it, they just go with the flow. However, it is different from other places. It is different from Phnom Penh. It is different from Takeo Province or even Kampot Province. So, I do know that, even if the [present day] people are not the direct bloodline of the builders of Angkor, at least they—the present-day people—still have a sense of tradition within their blood. This is a huge wealth of our own. We do not just have the stones. Well, just like what we have said, the temples are built out of stones. However, we also have the human beings who live here. That is what we have to protect.
As he explained, the soul of people and of all living creatures in nature over the centuries have contributed to the aura that surrounds these Angkorian temples. And this is part of what makes Angkor so special for domestic as well as international tourists, even if they cannot explain why.
Ang Choulean: Regarding stones or people. The stones, they do not really change into anything else. But the humans, they evolve. Allow me to cut you right here. It is not just the Angkor Wat. For the Sambor Prei Kuk temples, I have done research on various kinds of ceremonies that are related to rice. There is that one big ceremony that they conduct during the month of April, when it begins to rain, in order for them to begin cultivating rice. And there is another ceremony that is conducted when they complete their rice cultivation. All of these ceremonies are organized at the Sambor Prei Kuk temple. Well, it so happens to be related to that temple. So, the ceremony is still very lively and the temple, even though it is ruined, still looks very lively when the ceremony is conducted in front of the temple. The practice of asking for rainfall or Yey Mao or many other things like that seem to be very lively. Well, no one wants it to be lost. But we should not be thinking of changing the way it is practiced. It is best for us to preserve the living legacy.
Loun Lorng's son Laen represents the family's fourth generation to be living at Angkor. Now married, his newborn child may one day choose to remain in Angkor Park and be part of the fifth generation in the family to live in the shade of the temples.
Loun Laen: I just want to live alongside my family. I just want to be with my father and mother. I do not really think of moving anywhere else as long as being here brings me happiness. If it does not bring me happiness, I just cannot know for sure what lies ahead in the future. My intention is to live near my parents. In case they are not feeling well, I can look after them.
Ky Soklim: So, you will continue living here forever if nothing changes.
Loun Laen: Yes.
In spite of its stunning monuments and natural setting, the Angkor Park would somehow not have the same aura if there was no human presence and human activity within its boundaries. The traditional Khmer houses in Angkor villages, the religious and cultural practices that have been maintained for centuries: All of this make Angkor even more special.
Kong Sopheap​ – Head Monk of Wat Northern Angkor
Kong Sopheap: The people who come to visit the pagoda also frequently go to visit the temple. There are sacred places, in plain Khmer terms, such as Lok Ta Reach, Lok Ta Pich or Lok Ta Ku and especially the Bakan temple at the very top. When they come, they always bring with them some of the items to worship at the Lok Ta Reach place. It means that they come here to connect. They know what it is and they have a spiritual belief toward it. For some others, they cannot make it due to their having limited time. They do not just come to worship at one pagoda. They go to all seven or nine pagodas within the Angkor zone.

Yet for some others who come from Phnom Penh or the provinces, they come here to worship as well as to pay back [with offerings, praying with the same words they had used for their requests]. As long as they got what they have wished for, they come here and pay back their loaned words. There is a saying I have heard since I was young from elderly people. The saying goes like if you really wish to visit the Angkor Wat temple, you will never ever get there. They said you should not wish to visit the Angkor Wat temple. For them, they think that they have to visit the Angkor Wat temple at least once in their lifetime because they know that the Angkor Wat temple is a very sacred temple inside our Kingdom of Cambodia. Even though the kings and many other levels of leaders take the picture of Angkor and present it to the nation by putting it on our flag. It amounts to the soul of our nation. Because of this, the Cambodian people think that the temple of Angkor Wat is a very important and wonderful temple. That is why they wish to visit this temple at least once in their lifetime in order for them to feel satisfied.
Lorng and his family who have been settled in this ancient city of temples for generations still are inclined to keep on living at Angkor. One reason being that they believe the people of Angkor are protected and cared for by the spirits of the temples.
Loun Lorng: If you are not careful and a stone falls down, well, that is basically it. If you fall down, you are less likely to live. As I have been doing this for many years, the spirits here do not seem to judge me. They do not seem to judge me when I say something silly, since sometimes I used to joke around.
Ky Soklim: So, you believe that the spirits that look after the temple may also actually help Lorng in return?
Loun Lorng: Yes, I do believe that they help me. I used to dream about it. They [spirits] help me and my teammates away from any trouble.
Most villagers in Angkor Park and people who guard the monuments strongly believe that the stones of Angkor Wat have spiritually powerful, that they are inhabited by higher beings.
Angkor Park represents more than economic benefits for Cambodia. The site of this ancient city, which was the capital of the Khmer empire for centuries, reflects the traditions and cultural history of the Khmer. Today, many Cambodians view Angkor as the soul of the nation.


Throughout the eras, the guardians of Angkor have stood by in respect for these temples. And the temples have returned that respect to their guardians. It may be because of their guardians that these temples are whole today. In 2010, a report of the Ministry of Culture and Fine Arts indicated that in the province of Siem Reap alone, 834 archeological sites had been identified. Among them, temples at 220 sites have retained their structural integrity while 148 other temples are structurally ruined. Besides temples, there are 196 hills, 103 pagodas, 82 bridges and 85 other locations such as ponds that have been identified as archeological sites.
The population of Angkor Park tend to feel great pride when they are told that they are the descendants of the builders of Angkor.
Loun Laen: Some people, when they meet me, they just say that I really look like the Angkor Khmer people. And then I say, "Yes! I am really the Angkor Khmer people since I live here, in the Angkor zone." Since a young age, I have been living here. When I travel somewhere, people always tell me that I look like the Angkor Khmer people. I have heard a lot about it. I feel proud as I am living inside the Angkor zone. Furthermore, when people tell me that I look like the Angkor Khmer people. I feel like I have contributed something toward the building of Angkor.
The temples at Angkor are set in forests with lakes and rivers that are home to wildlife. The people who have lived among them for generations have often viewed the temples as their responsibility to guard but also as owing them gratitude.
While Cambodia's history unfolded over the centuries, they have remained among the temples, passing on their knowledge and beliefs to their children so they can carry out the tradition and watch over the temples.
And they continue to do so today.
Related Articles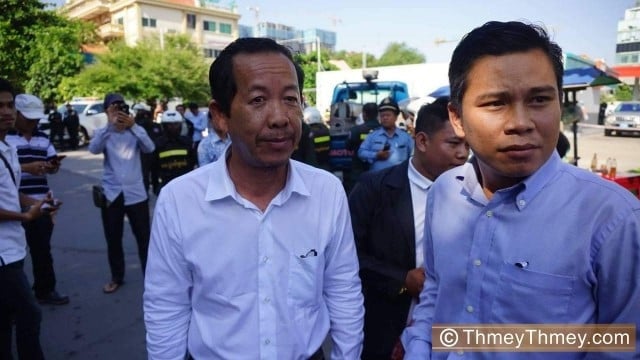 September 9, 2021 12:26 PM