The Annual WIG Christmas Fair Is Back in Phnom Penh after a One-Year Absence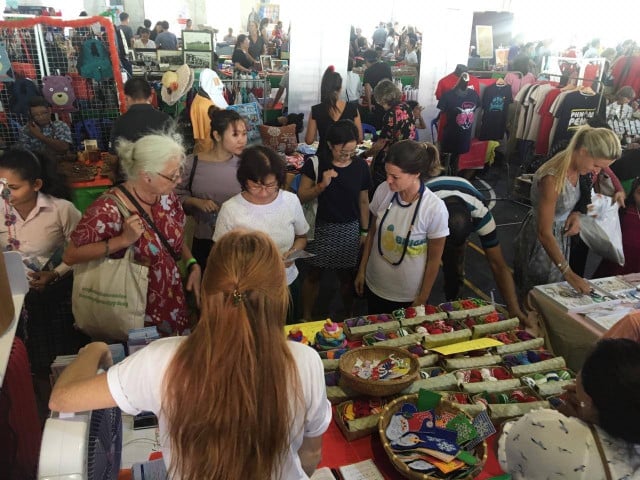 November 25, 2021 7:31 PM
Slightly smaller than in the past as a result of the pandemic, the event on Nov. 28 includes 80 vendors
PHNOM PENH--Since 1994, the Christmas Fair organized by the Women's International Group Cambodia (WIG) has been an opportunity for artists, artisans, designers and craftspeople from Phnom Penh and other parts of the country to feature their products in Phnom Penh.
And for people shopping for gifts for Christmas or other occasions, the chance to discover their work and products while children of all ages listen to Christmas carols, take part in games and visit Santa Claus.
Cancelled last year due to the pandemic, the WIG Christmas Fair is back this year, taking place Sunday, Nov. 28 at the Coconut Park in Koh Pich.
But, this will have taken a great deal of work and adjustments to make this happen in COVID-19 times.
WIG members usually start in March to plan the fair, said WIG President Yein Ngo Ly, who is Cambodian Canadian. But with the uncertainties regarding the situation in the country, it is only in June 2021 that the group decided to go ahead and plan the event, she said.
An association of volunteers, WIG provides grants to NGOs and associations in fields ranging from women and children care to the protection of the environment. And its only fundraising event is this annual fair.
"The biggest challenge was the timeframe," Ngo Ly said. "Normally we start planning in March.
"We prebooked the site in June [2021] but it was not until October that we started to work fully on it because we weren't sure what was going to happen," she said, regarding the government's health measures that would be in place in response to the COVID-19 situation in the country.
One other issue for the fair was the location. Previously held at the Canadian International School, this was not possible this year. But the school was instrumental in WIG finding a new location, Ngo Ly said.
Then, one had to get vendors. The fair usually consists of 120 to 130 vendors but many participants of past years have been severely affected by the pandemic. "We were going for 60 and ended up with 80," Ngo Ly said. And this will include artists and artisans from outside the capital such as Kampot and Siem Reap provinces, she said.
Promoting the country's talents
To help them take part in the event, WIG dropped its usual table fee, said Benedicte du Cheyron Monroe, a long-time WIG member who coordinated vendors. "We don't only want to raise money," she said. "We also want to support artists and artisans. We don't want to lose [them] in Cambodia: We want to give them a platform so they can showcase their things, and…recover from the pandemic.
"So that's our goal. It's twofold," she said. "We are raising funds…for projects…And the fair causes to raise awareness for all these vendors."
Items available will range from jewelry, clothes, shoes and ceramics to herbal tea, skincare and Christmas decorations. "We have everything," said du Cheyron Monroe. Plus stands with food from various countries including Japan and India, as well fast food and even hummus. "We try to accommodate the different tastes of our audience," she said.
The program will include performances by singers and musicians, plus children activities.
The Christmas Fair on Sunday, Nov. 28, runs from 9 am to 5 pm
Tickets are $2.50 (10,000 Riels) for adults, $1.25 (5,000 Riels) for children over 3 years old, and free for children 3 years old and younger.
For more information:
https://www.facebook.com/events/s/wig-christmas-fair-2021/927216291507746/?ref=110
Related Articles