The Apsara Authority takes measures to keep Angkor Wat's setting serene and green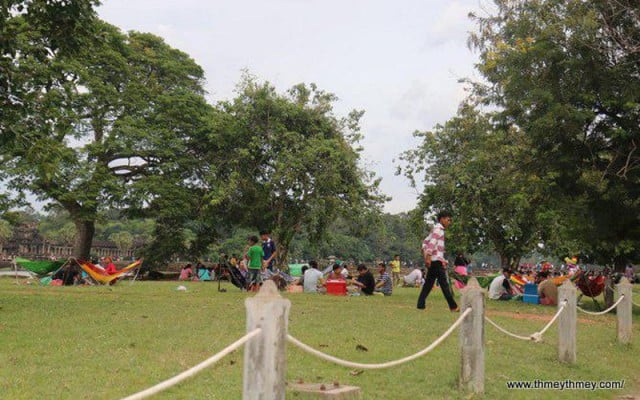 Thmey Thmey
August 14, 2019 7:14 AM
Vendors are given 45 days to prepare and comply with the ban

PHNOM PENH--The Apasara Authority Tuesday issued a ban on food outlets and eating areas on some lawns around Angkor Wat in the Angkor Archeological Park in order to preserve its historical setting and maintain public order.
"To promote the global value of the Angkor archeological site as well as national fame, the Apsara Authority would like to appeal to our vendors and tourists to stop setting up woven mats or hammocks around Tropeang Ses, Ta Prohm Kel temple and also around the Angkor Wat moat," the statement read.
The Apsara Authority, which is the government agency managing the site, said in the statement that those areas set up for people to eat and lounge on the lawn around Angkor Wat and at Ta Prohm Kel nearby tend to affect their natural and peaceful setting, and at times lead to public-order disruption.
Vendors are given 45 days to prepare and comply with the ban, which took effect immediately after the announcement, according to the statement.
The Angkor Archeological Park in Siem Reap Province is a Unesco World Heritage site since 1992 and Cambodia's most important tourist destination. In the first seven months of this year, 1.39 million foreign tourists visited the site, many of them Chinese and South Koreans, generating $62.3 million in ticket sales.
In its statement Tuesday, Apsara Authority warned that vendors who violate the ban will face administrative measures or have their equipment and materials confiscated.
Related Articles