The APSARA National Authority Well-Prepared for Angkor Park Reopening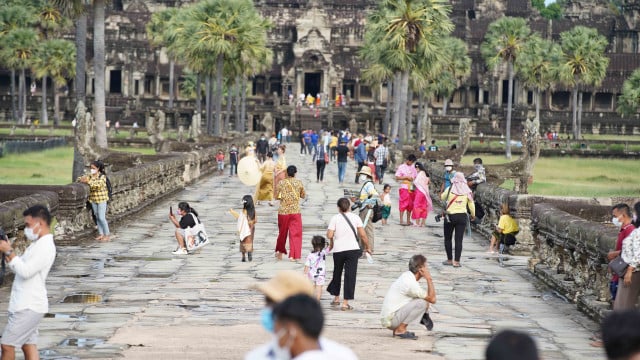 Measures for the "new normal" in pandemic times will include set itineraries and visits to less-known temples to prevent large groups to form at the monuments
SIEM REAP--As travel restrictions due to the COVID-19 pandemic are progressively lifted, the APSARA National Authority—the government institution that manages the Angkor Archaeological Park in Siem Reap Province—is ready to welcome large numbers of tourists again. Cambodianess' Torn Chanritheara spoke to Long Kosal, deputy director-general of APSARA authority, about the work being done and expectations to soon see international visitors at this UNESCO World Heritage site.
Torn Chanritheara: What has APSARA authority done to prepare for the return of large numbers of tourists?
Long Kosal: APSARA National Authority's most important mission is to protect and preserve the nation's cultural heritage, which is also international heritage. As time evolves, culture is transforming into more than preserving identity or displaying tradition. Culture is now the core of development, economically and socially, as well as an advocate of the importance of tradition and peacebuilding.
In this context, what APSARA authority is doing is preserving all the heritage so that this becomes a catalyst to boost economic growth and improve people's livelihoods. This is what APSARA is doing.
Torn Chanritheara: The pandemic is still raging in countries around the world and Cambodia is also bearing the burden, particularly Siem Reap Province, which is the country's main tourist destination. As the government plans to welcome vaccinated tourists later this year, what are you expecting for Angkor park?
Long Kosal: [W]e are confident that the [country] reopening will be able to bring back tourists. In fact, I believe that both domestic and international tourists are eager to travel. Hence, I expect that more and more tourists will visit Angkor Park.
We have been preparing physical infrastructures such as renovating entrances of many temple sites, parking lots and hospitality places. We have set up green spaces around public areas and temples.
Besides that, we have also made ready and strengthened soft infrastructure. We provide training courses for our staff so that they understand the challenges they might face in the future. What we need to consider is that tourists visiting Angkor Park must do so in 100 percent safety. The implementation of the "3 dos and 3 don'ts" will continue but, at the same time, what else shall we do? We will continue to train our employees and also operators so they know the importance of these measures.
We will also work to effectively supervise the flow of tourists, which means some places will not be so crowded anymore. As you know, because of too many tourists, it became crowded in some areas. To reduce the risks of COVID-19 upon reopening, we will not allow tourists to stay in a crowd at one place. There will have to be a flow of visitors and they will have to distance themselves from one another.
Moreover, we will set the tour itinerary for them. They will not be allowed to visit just any places they wish to: We will create travel itineraries. This is very important as they will randomly visit temples if we don't provide directions and will cause problems. We don't want them to do that; there is a need to control them and ensure their safety.
We are considering the possibility of splitting tourists so they go to other temples and they don't just visit some famous ones like they did in the past. For instance, we have a great many small-size temples in Angkor Park. Previously, tourists would always visit Angkor Wat, the Bayon, Ta Prohm, Banteay Srei or the Bakong temples. But now we're thinking a strategy to encourage them to explore other small temples.
We are also expanding in other areas such as places to see the sunset or dawn so that they will not all go to Phnom Bakheng or the Bakan floor of Angkor Wat to do so. This is what we are working on. Furthermore, we are preparing more tourism material including street signs and direction plates in order to inform them where to go.
We are currently improving our website to provide more information for tourists prior to their arrival, letting them know what they should prepare before visiting Angkor.
Torn Chanritheara: You mentioned what APSARA authority has done and plans to do. In light of the pandemic, do you believe this will be enough to ensure safety and attract tourists?
Long Kosal: What I have raised is a very crucial part and plays an important role to prepare the tourism sector to align with safety standards. I want to reaffirm that we can't do it alone even if we are the institution that manages or controls this area. It needs the participation of the stakeholders such as operators, travel agents, private companies that offer tour packages, handle logistics. They have a role to play in order to get tourism back on track, meaning that they must join hands with us.
What are their responsibilities? Like I said about tour itineraries and persuading tourists to visit other temples, tour companies that sell packages must redesign their products to comply with these changes. Only with the participation of all stakeholders can the reopening go smoothly.


Torn Chanritheara: Since tourists from Western countries historically are a big share of the total number of visitors in Siem Reap, do you expect this to still be the case in view of the current situation where the pandemic is not over yet? Or is there a shift with a rising number of regional travelers replacing those from afar?
Long Kosal: I think that, in the current circumstances, we should talk of the psychology and feelings of tourists. [Let's] put ourselves in their shoes: What are the pressures in today's situation. In cases where tourism sites reopen and tourists start traveling. They sometimes dream of visiting specific places. I would like to stress that Cambodia is listed among the 20 countries that Europeans wish to visit. Knowing this motivates us to prepare for their arrival. If we were them, we would know where we want to go.
With wonderful Angkor Wat part of our preparations, the charisma level is running high. More importantly, we would like to express appreciation to our royal government that has vaccinated most of the population with the second COVID-19 vaccine dose while many have even received their booster shot. This…accomplishment is a factor for tourists to consider since it is rather safe for them as the host-country people are vaccinated.
Torn Chanritheara: Cambodia is one of countries with higher rates of vaccination in the region and the world. However, as Cambodia relies very much on vaccines produced in China while other countries in the region rely on vaccines from various sources, do you believe the difference in vaccines may have any effect on the reopening of the country?
Long Kosal: These are two separate things. I consider the vaccines in a medical perspective. Regarding the types of vaccines we are currently using, if they are not effective, we will suffer. But so far, the vaccines have been highly effective and no one has any problem. This is the medical point of view. This also has a political element but I won't discuss this. The vaccines being used now are safe and effective, and useful for our people who can confidently move from one place to another. If we did not have confidence in the vaccines, I don't think there would have been many local tourists traveling during Pchum Ben [the religious celebration that was held in early October]. This happened because of the vaccines. We need to stress this point.
Hence, the vaccines being used…are effective.
Torn Chanritheara: The pandemic seems to linger. What do you expect of the "New Normal" in the future?
Long Kosal: Regarding the "New Normal," it is what we have been preparing. As I mentioned earlier, in a public space where there are people coming from different areas and gathering, in order to adhere to the new normal, we must strictly follow the government's instructions regarding the "3 dos and 3 don'ts," and what I have pointed out. The flow of tourists must move in stages, which will ensure safety. First, parking. Then, where should they go? They will have to follow our itineraries. If they don't do so, this will cause problems as we will not know where they came from.
It is clear to us that it is safe here and that we want to maintain safety. And this is what we are going to do.
Related Articles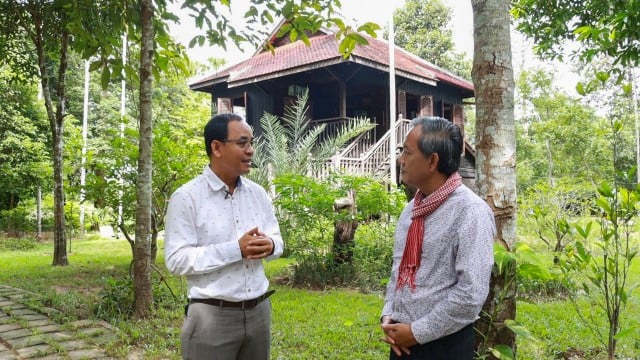 November 17, 2020 8:28 AM