The ASEAN Summits End with Cambodia Stepping down as Chair, Turning it over to Indonesia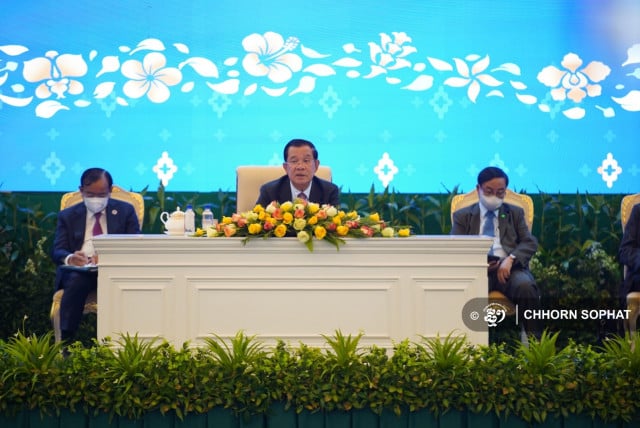 November 13, 2022 8:07 PM
PHNOM PENH – The 40th and 41st ASEAN Summits and Related Summits ended in the afternoon of Nov. 13 in Phnom Penh with Prime Minister Hun Sen handing over to Indonesian President Joko Widodo the chairmanship of ASEAN. This marked the end of seven days of meetings between the leaders of ASEAN countries and their partners countries worldwide.
Around 1,800 national and international journalists covered the seven days of meetings during which ASEAN countries met with presidents and prime ministers of countries with which ASEAN has cooperation and trade relations such as Australia, China, India, Japan South Korea and the United States, and others such as Spain and Ukraine with which ASEAN signed an "Instrument of Accession to the Treaty of Amity and Cooperation." A United Nations and commemorative Canada summits were also held in addition to ASEAN delegates holding working meetings such as the ASEAN Business Advisory Council meeting.
"As we are making an all-out effort to recover from the impacts of COVID-19 and deal with the Myanmar crisis, unexpected situations with far-reaching security, social and economic consequences have emerged," Hun Sen said on Nov. 13. "Nevertheless, ASEAN has managed, once again, to navigate unscathed through these rough waters and successfully delivered substantial outcomes."
In his first speech as Indonesia chairing ASEAN in 2023, Widodo said that "ASEAN must become a peaceful region and an anchor for global stability, consistently uphold international law and not be a proxy to any powers." Alluding to ongoing tension among some countries in the region, he said, "ASEAN must be a dignified region and uphold the values of humanity and democracy. ASEAN should not let foreign geopolitical dynamic turn into a new cold war in our region."
In his last speech as heading Cambodia chair of ASEAN, Hun Sen told the countries' officials that it had been an immensurable pleasure for him to at last host them in person during these week-long summits now that the pandemic was more under control. Many ASEAN meetings took place online since the start of the pandemic in early 2020.
Related Articles
February 12, 2020 4:51 PM