The Cambodian Authorities Put Thousands of Garment Workers in Quarantine at Their Homes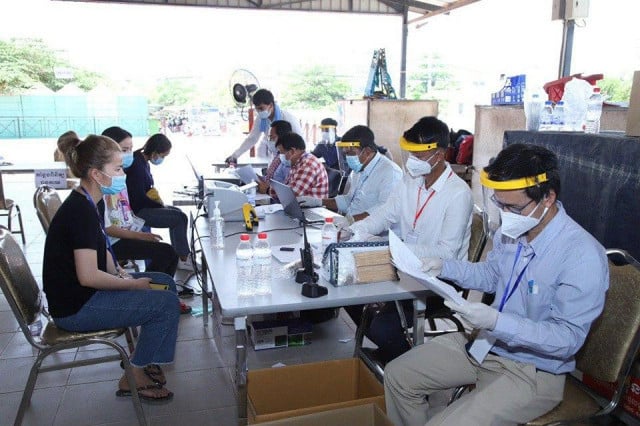 None has tested positive for COVID-19

PHNOM PENH--The Ministry of Labor and Vocational Training on Friday (April 24) announced that 4,823 garment and footwear workers have been quarantined for 14 days by the Cambodian medical authorities.

According to the ministry's press release, 5,045 garment workers went through health checkups for the Coronavirus Disease 2019 (COVID-19). Moreover, 125 workers were tested for COVID-19 with results coming out negative for the disease.

Still, 4,823 workers have been put in quarantine for 14 days at their homes or in their rented rooms while 97 workers were put in isolation at a level-1 quarantine center and 125 workers at a level-2 quarantine center.

In the meantime, the health authorities have allowed 202 workers to leave quarantine centers 1 and 2, and continue isolation at home.

"The ministry has closed the health-check [stations] on April 24…at 6 p.m. except for the quarantine center level 2 in Chompouvorn Hight School, and is following up on 20 workers until they have available [quarters] to isolate at home," the ministry's press release read.

This comes after some 30,000 garment workers are believed to have traveled throughout the country during Khmer New Year, which was held on April 14 through April 16, in spite of the Cambodian government's effort to limit travel in order to prevent the spread of COVID-19.

In addition to international travel restrictions and requirements that include international visitors having health insurance, the Cambodian government earlier this month imposed travel restrictions inside Cambodia to prevent people from crisscrossing the country during Khmer New Year.

The Ministry of Labor and Vocational Training has monitored the flow of workers during that period, which led to testing garment and footwear workers upon their return.

The Cambodian health authorities have also been reminding people to call the health hotlines at 115 or 012-825-424 if they show any symptom of COVID-19.

As of April 25, Cambodia had reported 122 cases of COVID-19. Among them, 117 patients have made a full recovery, and only five patients remain hospitalized.


Related Articles