The Cambodian Authorities Saturday Report No New COVID-19 Case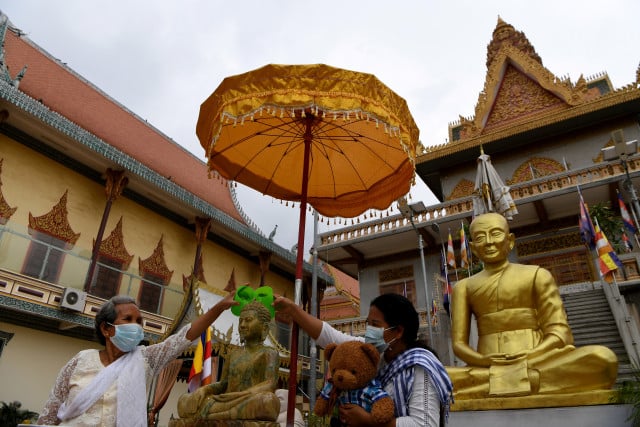 Sao Phal Niseiy
April 18, 2020 4:44 AM
The number of cases in the country stands at 122 for the sixth consecutive day
PHNOM PENH--Cambodia reported Saturday (April 18) that no new Novel Coronavirus (COVID-19) case had been identified over the past six days, and that five more patients have recuperated.
"As of 18 April, at 7 am, Cambodia has five more patients who have fully recovered from the virus and no new case of COVID-19 was identified," Or Vandine, spokesperson for the Ministry of Health said in a press statement.
The five patients, that is, two Americans, one British, one Canadian and one Cambodian, who have recovered have brought the total number of recoveries to 103, she said. Out of the 122 officially confirmed cases, only 19 remain in hospital, she added.
As of April 18, more than 2.2 million cases of the coronavirus had been confirmed worldwide with a death toll of more than 150,000 persons, according to the Johns Hopkins University's Center for Systems Science and Engineering.
Despite no new infection detected in the country, Cambodia still has not relaxed the restrictions issued to curb the spread of COVID-19, which include international travel restrictions on passengers from several countries and the closure of cinemas, theaters and museums.
In an instruction letter obtained by Thmey Thmey on April 17, Minister of Education Hang Chuon Naron said that schools would remain closed until further notice, adding that the decision not to reopen them is part of the efforts to contain the spread of the coronavirus.
The Cambodian government ordered nationwide school closure on March 16.
As schools remain closed, Naron urged parents and guardians to encourage students to self-study and use virtual-learning courses, which have been set up online by the Ministry of Education, Youth and Sport.
He also reminded parents to take care of their children, to practice good personal hygiene, and to avoid places with potential risk of coronavirus contagion.
Related Articles