The Cambodian Authorities Seize a Product Used to Make Toxic Hand Disinfectant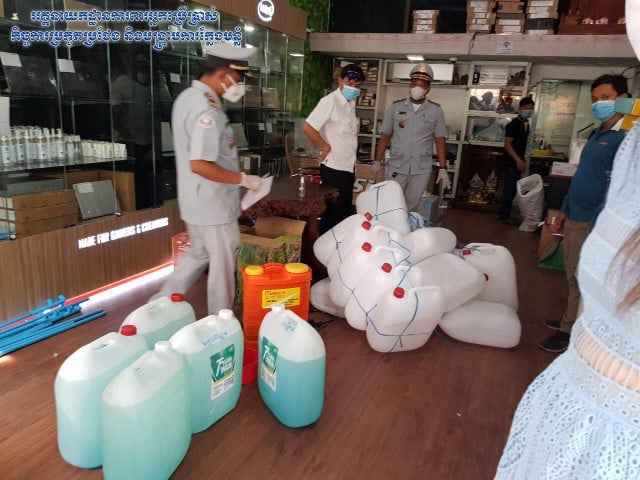 Phoung Vantha
March 27, 2020 6:44 AM
The illegal traders were exploiting people's eagerness to prevent COVID-19 contamination

PHNOM PENH--The Cambodia Import-Export Inspection and Fraud Repression Directorate-General (CamControl) on Friday (March 27) seized 1,389 liters of counterfeit alcohol in Phnom Penh and Siem Reap Province, according to a news release posted on its Facebook page.

In Phnom Penh, CamControl's specialized officers conducted inspections at pharmacies around the Olympic Market and confiscated 244.8 liters of methyl alcohol, or methanol, which was to be used in hand sanitizers—methanol is hazardous to people's health and can even be life threatening.

In Siem Reap Province, they seized 64.53 liters of methanol at two pharmacies they had identified as selling the product.

The CamControl Directorate-General intends to take legal action against the businesses that were trading in methanol for illegal use, the news release said.

On March 18, Camcontrol Directorate-General revealed that some no-name hand-sanitizer products sold in the country were containing as much as 80 percent of methanol. Those counterfeit products were made and sold to take advantage of the fact that people are looking for such products to protect themselves from Coronavirus Disease 2019 (COVID-19) contamination.

Following CamControl Directorate-General said that , some people voluntarily turned over 1,080 liters of methyl alcohol on March 26.

People's eagerness to take basic measures against the coronavirus has also led to a search for facemasks. On March 25, Prime Minister Hun Sen urged the authorities to investigate and take legal action against all clinics that were increasing the price of facemasks.
Related Articles