The Country Lacks Cambodian Experts for Heritage-Site Conservation, Culture Minister Says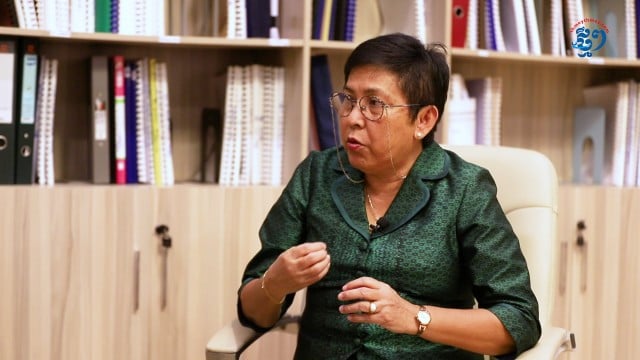 Still, Cambodians are now overseeing the country's major restoration projects, she added
PHNOM PENH--The country needs more Cambodian archaeologists and conservation specialists to oversee the country's numerous centuries-old monuments, Minister of Culture and Fine Arts Phoeurng Sackona said.
"If you ask me whether we have enough human resources now, I would answer that our country currently still lacks specialists to do the work," she said during an interview earlier this month.
However, most monument restoration and conservation projects are now being carried out by Cambodian experts with technical consultation provided by foreign specialists, Sackona said.
"Right now, our [Cambodian] experts have high level of technical expertise, which our international friends also acknowledge and praise," she said. "[M]ost conservation projects are managed by Cambodians now. From technical workers to project managers, they are Cambodians," Sackona said.
When peace returned to the country in the early 1990s, Japan and France launched an initiative to help Cambodia restore the 1,000-year-old monuments in Angkor Archeological Park in Siem Reap Province. Few Cambodian archeologists or architects had survived the Khmer Rouge regime, Sackona said.
This led to the creation of the International Coordinating Committee for the Safeguarding and Development of the Historic Site of Angkor (ICC-Angkor) through which conservation and restoration projects were launched, heavily supported by foreign experts.
Today, Cambodians oversee these restoration and preservation projects. "However, we still need to consult with foreign experts to ensure our works meet international standard because our temples have been listed as world heritage," Sackona said, referring to the fact that Angkor Park and the Temple of Preah Vihear and the Temple Zone of Sambor Prei Kuk are on the Unesco World Heritage List.
In addition to these sites, Cambodia has recorded more than 6,587 archaeological sites including temples, bridges, pagodas and so on countrywide, Sackona said. "Previously, our data showed that we had over 4,000 sites. But with the lidar scanning technology, we have detected more sites, not only temples but also ancient roads, buttresses and even canals. It is easier than before," Sackona said.
While the country lacks the financial resources to manage the country's large number of archeological sites, it also lacks the specialists to do so, she said.
Although the Royal University of Fine Arts (RUFA) is working hard to train archeologists and restoration experts, there still is a shortage of people in the field, Sackona said.
"These archeological and architectural works that involve preservation of ancient temples require those who have strong passion, perseverance and affection," she stressed.
When asked whether Cambodia will be able to produce enough experts to sustainably work on temple conservation and restoration in the future, Sackona responded that she remains confident as the process of creating new human capitals will never stop.
"This will be endless work," she said. We will continue to train more experts because there are always Cambodian people who love to study these two majors," Sackona said, adding that RUFA continues to form around 100 archeologists and 200 architects each year.
Related Articles