The Documentation Center of Cambodia Opens a Library to Facilitate Public Access to its Archives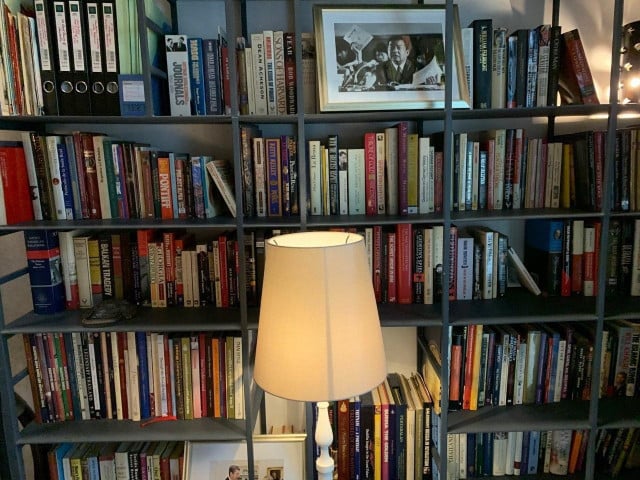 People can search through more than 1 million documents with staff ready to help if need be
PHNOM PENH--For decades, the Documentation Center of Cambodia (DC-Cam) has been planning to open an institute where researchers would be welcome to consult its staff and access its archives on the Khmer Rouge regime physically as well as online, where conferences would be held and the public would be welcome to visit.
The Sleuk Rith Institute is also meant to serve as "a permanent home for the victims," said Youk Chhang, executive director of DC-Cam. But not as a gravesite that would focus on where the Khmer Rouge killed their victims during their regime in the mid-1970s: Instead, this institute would keep records on who they were and what happened to them as human beings, he said.
But for various reasons, including the fact that the location of the future institute is still under discussion with the Cambodian government, the institute project has been delayed.
So, in the meantime, DC-Cam has opened a modest center where all its archives—around 1 million documents—can be consulted online with staff on hand to assist researchers and any visitor.
"This is the first home of DC-Cam in 20 years," said Chhang. "I mean, we have an office. But we need to make that one more like…a library that people can access physically but also online."
Of course, the fact that schools, libraries and other public institutions had to close due to the pandemic means that the library cannot welcome visitors at the present time.
Still, DC-Cam feels that people should know about it, Chhang said. In fact, requests for documents have increased in recent months since people in numerous countries have been staying home due to their governments' measures to prevent the spread of the Coronavirus Disease 2019 (COVID-19).
"More people focus on research because they have to stay home," Chhang said. "So we get even more research requests than before COVID-19. And then we've been getting documents: People clean up their house or something, they discover things.
"So we're now busier than before the pandemic, responding to requests and receiving documents from overseas," he added.




Sections of the library, such as this one with portraits of King Norodom Sihanouk and Queen Mother Norodom Monineath Sihanouk in decades past, are meant for visitors and researchers to work or relax. Photo: youk Chhang, Documentation Center of Cambodia.
Rare documents on the Cambodian government in exile in Beijing in the early 1970s

Located in a French colonial home built in the 1920s a short distance north of Independence Monument, the DC-Cam library also contains a unique collection of documents on a little-known portion of Cambodian history: the government headed by then-Prince Norodom Sihanouk in Beijing from 1970 until the Khmer Rouge took control of the country in April 1975.

The collection was assembled by Julio Jeldres who was personal secretary to the late King Sihanouk and is now associate researcher at Monash University in Australia. This includes copies of some of the archives that King Sihanouk bequeathed to the French research institution Ecole francaise d'Extreme Orient and copies of all the archives he bequeathed to Monash University, plus more than 3,000 books related to Cambodian history and also on the events from 1970 through 1975 that Jeldres has acquired as part of his research on that period. A period during which the Cambodian government headed by Lon Nol in Phnom Penh was waging war against the Khmer Rouge whose official leader was Prince Sihanouk based in Beijing.
"Since Cambodian history is so complex, I think archives can be a great help because a document doesn't change, a document doesn't have emotions: It's what it is," Jeldres said. "It helps us to think, to look better, hopefully to be optimistic about the future.
"Our history is our own link to one another. It's no separation: It's one country, one nation, one history. But when we start to divide history from different times, I think that we fail to understand the future," he said.
Naming the library after Queen Mother Norodom Monineath Sihanouk
Since this library contains a unique collection of documents covering the tragic decade of the 1970s marked by the civil war and the Khmer Rouge regime, Chhang sought authorization to name it after Queen Mother Norodom Monineath Sihanouk who remained by King Sihanouk's side from the 1950s until his death in 2012, including the 1970s.
During an audience he was granted with the queen, last June, Queen Monineath kept insisting the library should be named after King Sihanouk, Chhang said. However, she eventually agreed: The library will be named Queen Mother's Library.
For more information on DCCam and the archives accessible online, please visit DCCam website at: http://dccam.org/home
Related Articles