The Fourth Estate: Fact or Fiction?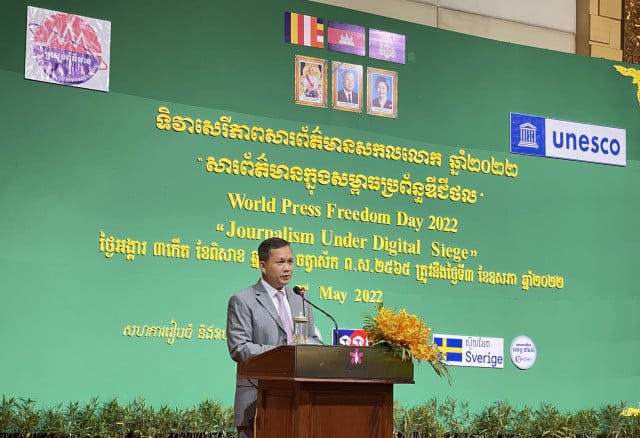 The World Press Freedom Day was marked in Cambodia on May 3 by an official ceremony presided over by Royal Cambodian Army Commander Hun Manet, representative of Prime Minister Hun Sen. Organized by the Ministry of Information, it was attended by the country's UNESCO representative and diplomats.
The role in Cambodia of the "fourth estate," as the press is known in democratic countries and as Hun Manet described it, was recognized for its contribution to the development of the country. The government guaranteed—one more time—the freedom of journalists to carry out their work. Great.
But essentially, in a democracy, it is not up to the authorities, whoever they are, to congratulate themselves for the freedom of the press and that of the journalists. We are referring here to the professionals who respect the code of ethics of the profession—because it is a profession—and not the frantic individuals on social media who think that one only has to express himself to produce information.
It is up to these professional journalists, and only to them, to say, yes or no, if they feel free to carry out their profession. Can they cover the topics they wish to cover? Can they, without fear, seek and obtain from the authorities the information they need in order to do their job and serve the public? Can they give voice to all the people they believe should be heard in the context of the democratic debate? And so on.
The "Fourth Estate" serves its purpose in a democracy only when it can function freely, far from being concerned about being marked by official ceremonies organized by the three other estates. In complete independence.
Related Articles