Opinion: The Glasgow Climate Pact and Next Steps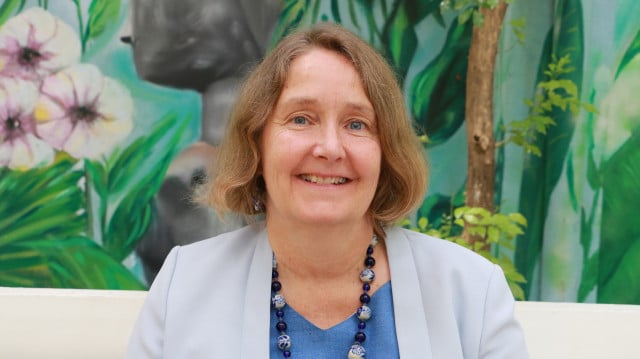 UK will respond to calls from Cambodia and the region
Last month, the UK welcomed the countries of the world to Glasgow for the 26th UN Climate Change Conference, or COP26. Twenty-five thousand people from 197 countries, including 120 world leaders, came together in the UK, to unite against the common threat of climate change. They agreed on the 'Glasgow Climate Pact' which will accelerate the pace of climate action – and keep our goal of limiting global warming to 1.5°C alive.
COP26 succeeded in completing the Paris Rulebook – the guidelines for how the Paris Agreement is delivered, after 6 arduous years of negotiations. This includes agreement on Article 6 (the framework for countries to exchange carbon credits through the UNFCCC), as well as common timeframes (length of time frames for national commitments) and the Enhanced Transparency Framework (how to track and communicate progress on climate commitments).
It was the overarching objective of the UK's COP26 Presidency, when we set off on this journey two years ago, to keep 1.5°C alive. As COP26 President Alok Sharma said at end of the Conference "1.5°C is alive, but its pulse is weak", and will only be delivered with concerted and immediate global efforts over the next decade.
The Glasgow Climate Pact, whilst a historic agreement, will be judged on whether countries meet and deliver on the commitments they made at COP26 across mitigation, adaptation and finance. For Cambodia and other climate vulnerable countries, it is particularly vital that the following commitments made in Glasgow are delivered:


Countries agreed to revisit their 2030 emissions reductions targets to bring them in line the1.5°C target by COP27.


Countries agreed to phase-down unabated coal power and phase-out inefficient fuel subsidies – a COP first.


Countries agreed to launch the Glasgow-Sharm el Sheikh Work Programme on the Global Goal on Adaptation, and developed countries have agreed to at least double climate finance for adaptation to developing countries by 2025.


COP26 emphasised the status of Loss and Damage as a critical pillar of climate action but dialogue is continuing on the proposal from developing countries to setup a dedicated financing facility.


COP26 also provided clarity and improved transparency on the mobilisation of the $US100 billion finance goal, which is expected to be met in 2023.


Agreeing to this Pact was not an easy process, and certainly not one confined to the formal negotiation halls. It is the culmination of tireless negotiations, artful diplomacy, and listening to the voices of youth, academia, civil society, media and the private sector – especially those most impacted by climate change.
The 35-strong Cambodian delegation was led by the Minister of Environment, H.E. Say Sam Al. The delegation's 2 weeks of activity included becoming signatories for the Green Grids Initiative – One Sun One World One Grid. We are very much looking forward to seeing the endorsement of additional COP26 declarations in the coming weeks, including support for the World Leaders declaration on Forest and Land Use signed by 141 countries – a commitment to working collectively to halt and reverse forest loss and land degradation by 2030.
The UK Government will continue to respond to the call for climate action in Cambodia and the region. The UK's International Climate Finance has been doubled to £11.6 billion ($US14.6 billion) over the period 2021 to 2025. At COP26, the UK announced new support for Southeast Asia, including:


£110 million of support will go to the ASEAN Catalytic Green Finance Facility, managed by the Asian Development Bank. It will increase access to finance for critical infrastructure for ASEAN countries, and support the development of sustainable infrastructure projects such as renewable energy, clean transportation or urban infrastructure in developing countries across the region.


The UK announced over £290 million in new funding for adaptation, including £274 million announced for the UK's Climate Action for a Resilient Asia (CARA) programme. CARA will help strengthen climate resilience across the Indo-Pacific, including in Southeast Asia.


Over $130 trillion of private finance is now committed to science-based net zero targets and near-term milestones, through the Glasgow Financial Alliance for Net Zero (GFANZ), led by Mark Carney


Moreover, our bilateral programmes on ASEAN Low Carbon Energy Programme, Biodiverse Landscapes Fund and Darwin Fund Initiative are all contributing in practical ways to building adaptation and resilience, strengthening nature-based solutions, promoting sustainable transport and mobilising sustainable finance in Cambodia.


Keeping the momentum beyond COP26 is essential for Cambodia and the wider Southeast Asian region, which is disproportionally impacted by climate change. It is vital to recognise both the important role the region has to play in our collective climate goals, as well as what is at stake if we do not succeed.
We hope we can count on our partners across ASEAN to use this year to accelerate their climate action through revisiting their 2030 targets in their Nationally Determined Contributions, ensuring that our short-term targets place us firmly on the path to achieving net zero and keeping 1.5°C alive.
To quote COP26 President Alok Sharma on the task ahead, he said:
"It is up to all of us to sustain our lodestar of keeping 1.5 degrees within reach and to continue our efforts to get finance flowing and boost adaptation. After the collective dedication which has delivered the Glasgow Climate Pact, our work here cannot be wasted."
We still have unfinished business. The UK remains committed to continuing our close partnership on climate change through the UK's COP26 Presidency year and beyond. I look forward to closer collaboration with the Kingdom of Cambodia and with our friends across the wide range of sectors.
Collectively we must deliver on the promises set out in Glasgow. The hard work starts now.
Tina Redshaw is UK Ambassador to Cambodia
Related Articles