The Interior and Justice Ministries Address Congested Prisons in a Special Meeting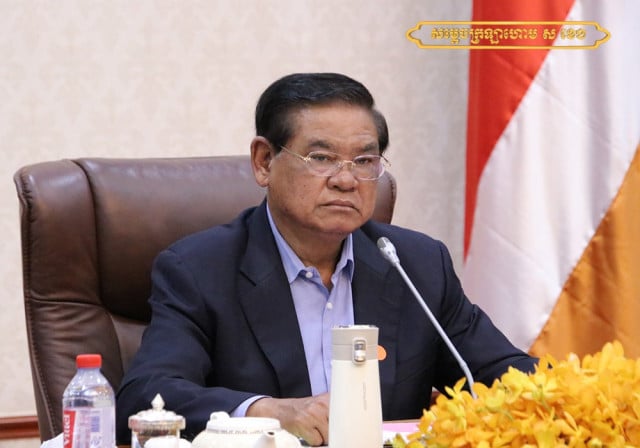 Lay Sopheavatey
May 9, 2020 9:22 AM
However, no prisoner will be released as part of COVID-19 measures
PHNOM PENH--Interior Minister Sar Kheng said during a meeting on prison overcrowding on May 8 that there was no plan to release inmates to combat the Novel Coronavirus (COVID-19) in the country.
"As we have faced the spread of COVID-19, some countries decided to release prison inmates," Kheng said. "However, our situation is better as it still is under control."
Kheng, who is also deputy prime minister, was speaking on May 8 at a meeting during which congestion at courts and overcrowding in the country's prisons were discussed.
According to him, solving these two problems is one of main tasks and responsibilities of the Ministry of Interior and the Ministry of Justice.
Over the last few years, Kheng said, drug-related cases have accounted for the highest share of criminal offences forwarded to courts, adding that those convicted offenders are not allowed to request a pardon and sentence reduction.
Minister of Justice Kert Rith, who also took part in the meeting, acknowledged that the number of prison inmates has greatly increased in the country due to drug convictions.

According to Rith, approximately 20,000 persons have been arrested on drug-related charges, resulting in an exponential increase in legal cases in lower courts as well as in the number of people incarcerated in prisons or detention centers in the country.

This meeting was held just one week after the Philippines' decision to free nearly 10,000 prison inmates as part of its efforts to stem the spread of COVID-19—as of May 8, the number of coronavirus cases in that Southeast Asian country had reached 10,463 with 696 deaths.

This meeting was also held a few weeks after Amnesty International had denounced the situation in the country's prisons and released video footage on Cambodia's prisons whose conditions the NGO described as "inhumane and extreme overcrowding."
"These conditions were never acceptable. Today they are completely unconscionable," said David Griffiths, director of the NGO's Office of the Secretary-General, in a statement released on April 10. "The authorities must urgently ease this overcrowding crisis while giving all detainees access to appropriate healthcare without discrimination."

Regarding the source, location and date of the footage, Amnesty International said that the images had recently been filmed in one of the country's prisons. The NGO added that when and where the footage was taken could not be revealed in order to protect its source.

On Saturday morning (May 9), Cambodia reported no new COVID-19 case for the 27th consecutive day. Since the first case of coronavirus was identified last December, 122 cases were detected by the health authorities. Among them, only two remain active cases with the patients still hospitalized in the country.
Related Articles