The journey of a Cambodian Pharmacist Student in China Amidst COVID-19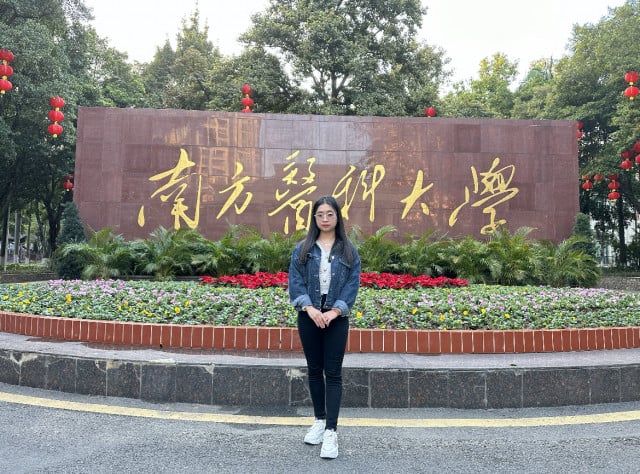 PHNOM PENH – As a high school student, Cheat Sokhoun already knew that she wanted to become a pharmacist. And she was ready to go anywhere to pursue the best studies possible.
At the age of 22, her commitment led her to China in mid-2019, after she received a scholarship to study pharmaceuticals at the Southern Medical University of Guangzhou, in South China.
She hoped that this long endeavor in a foreign country would bolster her soft skills and strengthen her independence – which it certainly did.
This former high school student from Tram Khnar district, Takeo province, attended extra classes in Phnom Penh before applying for the scholarship in China, to maximize her chances to be selected.
Being a clever young woman, she nevertheless had a card up her sleeve: If things were not to go the way she expected, Sokhoun also planned to study domestically.
"If I were to study domestically, I would have joined the University of Health Sciences", she said. "[But once selected for the scholarship] I did not hesitate to go study in China since it was already planned."
Confronting new context
A few months after she arrived, while 2019 was coming to an end, this second child among three siblings found it quite challenging to study and live in a different environment.
As she had assumed, the climate in China is much colder than that of Cambodia. Food and language were also two massive issues that pushed her far away from her comfort zone.
"Most people here speak Chinese and they rarely use English. When we want to buy food, we have to know how to communicate in Chinese. Most of the time, vendors hardly understand our English so I only use it when I want to talk to other foreign students."
Translation apps and body language helped Sokhoun go through some tough times before she was able to learn Chinese. It took her about a year to get a medium level in Mandarin, out of the six years her pharmaceutical studies were supposed to last.
She still hasn't mastered it but has been able to speed up her progression by keeping talking and practicing every day.
Before properly starting to pursue her degree, she even spent a whole year studying Chinese in Changchun city, in the northeastern province of Jilin. She spent much of her time studying, reviewing and talking with the locals to practice, improve and master Chinese.
Thanks to her scholarship which relieves the financial burden of studying abroad, Sokhoun has been able to establish new connections with other foreign students and be culturally accepted by people.
She only has a few Cambodian friends to help her out during times of need.
COVID-19 strikes
After a semester in China, Sokhoun came back to Cambodia to visit her family during a vacation. It was January 2020 and the world just started to understand that COVID-19 was going to close off the world for at least a few months.
While countries closed their borders, Sokhoun didn't have any choice but to stay in her home country and start pursuing her degree remotely.
"It was the first time that I studied online. The issues were the slow internet connection, the difficulties to communicate with the teachers and students, and to study Chinese. It was also more difficult to focus as I was studying from my room. A small disturbance from outside could get me distracted."
Three years later, while the world has bounced back from lockdowns and COVID-19-preventing measures, so did Sokhoun with her studies.
Thanks to the progressive ease of China's Zero-COVID Policy, the country's borders have reopened, allowing the pharmaceutical student to go back to China in October 2022 as a second-year student.
If everything goes well, she will complete her studies in 2025 and will head back to Cambodia as a qualified pharmacist.
"I am certain that I will return to Cambodia, to bring back the knowledge and experiences for the health sector here", she said.
She dreams of running a pharmacy and hopes she can help less-privileged people as much as she can with her pharmaceutical skills.
Originally written in Khmer for ThmeyThmey, this story was translated by Ky Chamna for Cambodianess.
Related Articles