The Ministry of Information Reports that Media Outlets and Fake News Have Increased while Freedom of the Press Remains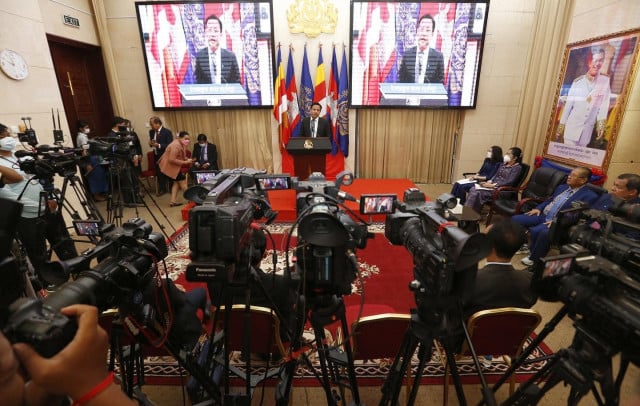 Phnom Penh — The Ministry of Information has issued more than 2,000 media licenses and provided press cards to more than 1,000 national and international journalists over the past five years.
According to ministry spokesman Meas Sophorn who, on Sept. 1, held a press conference on the ministry's activities, the ministry has issued over the last five years 2,154 licenses to media institutions for traditional and modern broadcast, and issued or renewed 1,033 press cards for journalists covering for national and international news outlets.
The increase in the number of media-outlet license issued, which went from 558 in 2018 to 2,154 in recent years, demonstrates that there is complete freedom of information in Cambodia, Sophorn said.
During the press conference, he noted that since 2020, the Ministry of Information had detected 4,657 incidents of fake news and that none of these cases had been forwarded to the court. However, 170 news contents were sent to the relevant ministries to be looked into, he added.
"Fake news has had a profound effect on the nation," Sophorn said. "The spread of fake news is not just happening now. It has been around for a long time, but now it is spreading so fast that it is difficult to control."
Ith Sothoeuth, executive director of the Cambodian Center for Independent Media, said that he would appreciate seeing the number of journalists increase in the country, which would show that Cambodia offers journalists the freedom to register for media licenses or press cards.
Moreover, he said, the government should let journalists have freedom of expression, especially in independent media.
"It is not sure that the increasing numbers are all good [sign]," Sothoeuth said. "So, in order to ensure better freedom of the press, the government should open space to allow the independent media to fully perform their role, and the ministry should try to facilitate and support journalists rather than blame them when a problem arises."
During an interview, Sothoeuth that it would be better if the Ministry of Information could accelerate passing the law on "Access to Information" because it has been in the works for a long time. This law will support and enhance the effectiveness of journalists by encouraging government officials to provide them with comprehensive information, he said.
Related Articles