The Ministry of Interior Reports 17 Tons of Drugs Seized since 2018, but More Needs Done as Illegal Trade Has Evolved, Observers Say
PHNOM PENH—The Cambodian authorities' crackdown on drug trafficking has led to around 17 tons of drugs being seized and more than 21,000 drug trafficking cases being handled over the last five years, according to a report of the Ministry of Interior.
During a press conference on Oct. 14, Ministry of Interior spokesman Khieu Sopheak presented the report detailing the investigations conducted and cases handled by the authorities since 2018.
In the course of those five years, the authorities have handled 21,366 drug trafficking cases during which 40,316 people were arrested, the report states, adding that 1,672 drug cases under warrant were also dealt with, leading to 1,659 people being arrested. Moreover, 24 cases of drug processing were handled and 75 people arrested. A total of 17,060 kilograms, or roughly 17 tons, of drugs were seized.
In the meantime, 159 drug cultivation cases were also handled with 32 people arrested. In Feb. 2022, the Minister of Agriculture, Forestry and Fisheries had told the authorities to monitor all chemicals and pesticides used in the agriculture sector to prevent illegal drug production, the former Minister of Agriculture Veng Sakhon wrote on his Facebook page.
"Operations to crack down on illegal drugs, human trafficking, and sex trafficking, including gang activities, are being actively carried out," Sopheak said at the press conference.
According to the United Nations Office on Drugs and Crime, Cambodia is the world's second-largest producer of heroin and a major hub for the manufacture and trade of amphetamine-type stimulants. The country has evolved into a major drug-trafficking transit country, and the use of illegal drugs, particularly amphetamine-type stimulants, has skyrocketed.
In July 2022, the Cambodian government said that the authorities were collaborating with the International Criminal Police Organization (Interpol) to identify the masterminds who import chemicals to be processed into drugs.
Cambodia has been conducting in 2022 its seventh campaign plan against illegal drugs, according to a statement issued by Prime Minister Hun Sen in Feb. 2022. The first campaign was launched in 2017.
In this plan, Cambodia has continued to promote the implementation of its five priority measures: education dissemination; research, investigation, and prevention; acceleration of the procedures for managing assets related to drugs; and promoting the implementation of treatment and rehabilitation measures.
However, according to the United States Embassy Trafficking in Person report issued in July 2022, the country was not making enough efforts to eradicate trafficking and did not fully meet minimum standards while endemic corruption has continued to impede overall law enforcement operations and holding traffickers accountable, while affecting victim service provision. "Officials also failed to proactively identify trafficking victims among these highly vulnerable populations," the report read. Still, some measures were taken. "Despite the lack of significant efforts, the government took some steps to address trafficking," the report read.
Concerns over drug addiction among young Cambodians
According to the Ministry of Interior report, 11,844 cases of drug use were generated and 28,642 people arrested since 2018.
Heng Kimhong, head of research and advocacy at the Cambodia Youth Network (CYN), said that Cambodia used to be a country that suffered from human trafficking and served as a transit country for drug distribution in the region. But now, drugs are being processed in the country, which is worrisome, he said.
"Drug is a serious crisis and risk for the Cambodian people," Kimhong said in interview on Oct.14. "The implementation of measures to combat drugs remains weak and lacking long-term mechanisms, especially the strengthening of campaigns [to crack down on illegal drug]."
He went on to say that the drug issue will have a serious impact on society because drugs not only affect consumers but also cause social and other crisis that can affect human resources and the future of Cambodia's youth.
"I think the authorities should continue to…strengthen the efforts, especially to cooperate in every corner," Kimhong said. He added that he hopes the Ministry of Interior will cooperate with the new minister of agriculture to combat illegal drugs being processed with chemicals used in the agricultural sector.
Minister of Agriculture, Forestry and Fisheries Tith Dina by King Norodom Sihamoni on Oct. 14.
Related Articles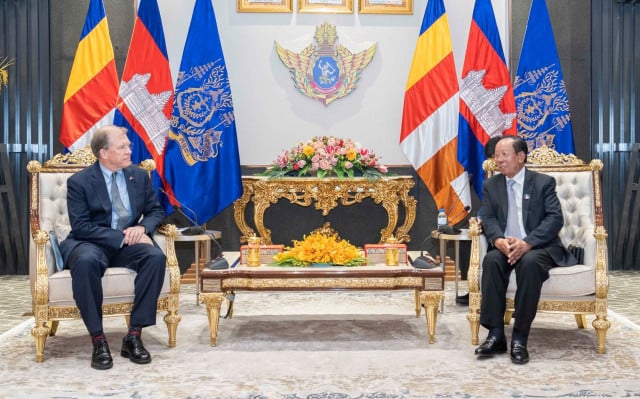 November 16, 2022 7:49 PM
September 15, 2023 11:06 AM