The Ministry of Tourism Reminds Businesses to Remain Vigilant with COVID-19 Measures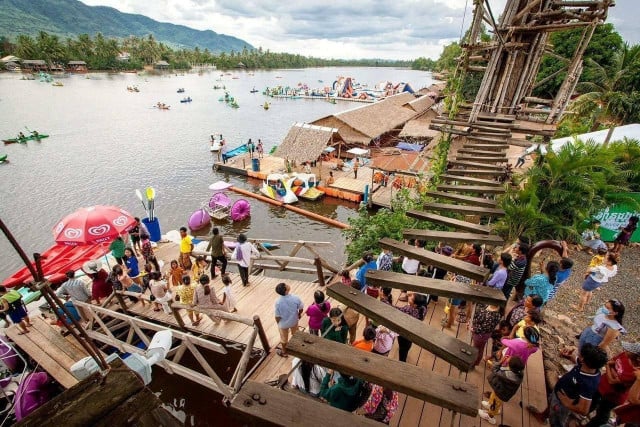 As thousands of tourists crisscross the country during Khmer New Year

PHNOM PENH—The Ministry of Tourism on Aug. 20 renewed its appeal to all owners and managers of tourism businesses on land or water throughout the country to keep on implementing all measures to prevent the spread of the Coronavirus Disease 2019 (COVID-19) as people travel during the Khmer New Year holiday, which officially began on Aug. 17 and runs through Aug. 21.

As the ministry stressed in its message, these measures include taking staff and visitors' temperature as they enter or leave a location, having hand disinfectant for staff and visitors to use frequently, wearing masks, having people maintain the required distance from each other, and making sure that bathrooms and other facilities used by visitors are frequently cleaned. Plus, the ministry added in its message, tourism businesses must abide by the Code of Conduct on Tourism Safety Rules for Tourism Resort Business.

According to a report released by the Ministry of Tourism, more than 500,000 people travelled across the country during the first two days of the holiday.

On Aug. 17, there were more than 230,000 visitors on roads and at tourism sites. The following day, the number of tourists jumped nearly 19 percent, reaching 270,000.

Tourism Ministry statistics indicated that, on Aug. 19, the province with the most tourists was Siem Reap with 44,364 visitors, followed by Kampot Province with 39,983 visitors, Battambang Province with 26,987 visitors, Kep Province with 23,229 visitors, Preah Sihanouk Province with 23,149 visitors, Ratanakkiri Province with 14,294 visitors, Preah Vihear Province with 12,430 visitors, and Mondulkiri Province with 10,254 visitors.

In the meantime, the Ministry of Health reported no new case of COVID-19 in its statement on Aug. 20, marking the sixth consecutive day with no official new case of the coronavirus in the country.

Meanwhile, two COVID-19 patients have made full recovery and been discharged from hospital. This brings the number of active COVID-19 cases down to 20, the Health Ministry statement read.

Among the 273 cases identified in the country since the pandemic began, 253 patients have recovered. So far, no death has been officially linked to the coronavirus in Cambodia as of Aug. 20.
Related Articles