The National Assembly Set to Vote on the State of Emergency Law Friday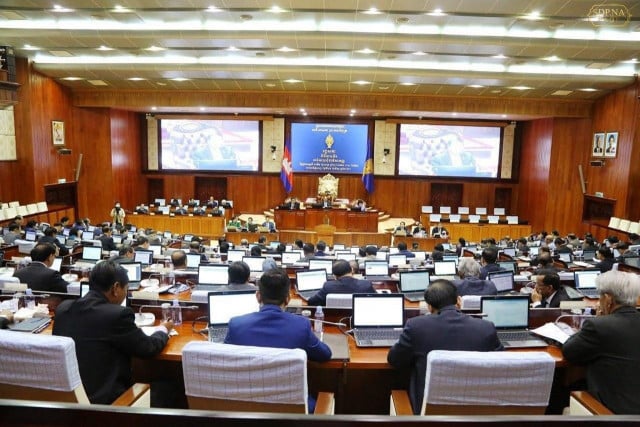 Torn Chanritheara
April 9, 2020 7:28 AM
The draft law is expected to be approved and promulgated without delay
PHNOM PENH—The National Assembly will vote on the state of emergency draft law Friday (April 10), according to a message posted on its website Thursday (April 9) following a meeting of its Standing Committee.
"The Standing Committee set April 9 as the date to resume the session of the National Assembly to discuss and adopt the draft law on governing the country in a state of emergency," the message read.
The adoption of the draft law has been put on a fast track, skipping the usual cabinet-level process, in view of the situation created by the spread of the Coronavirus Disease 2019 (COVID-19) in the country. And this, even though Prime Minister Hun Sen recently said that the state of emergency will unlikely be declared.
Other items on the National Assembly agenda will include a vote on the validity of new members at the National Assembly and its commission, the message read on the National Assembly website.
The draft law outlines how Cambodia will be governed during a state of emergency. Hun Sen previously said that the law would serve as a legal tool to compliment Article 22 of the constitution, which provides no mechanism as to how the country should function when a state of emergency is declared.
Since it is expected that the draft law will easily pass in parliament, Hun Sen has already asked the Senate to quickly approve it once the National Assembly has voted. Following Senate approval, the draft law will be forwarded to the Constitutional Council that will review it to determine whether any part of the law may be deemed unconstitutional.
In view of King Norodom Sihamoni 's absence from the country, Say Chhum who, as president of the senate, serves as acting head of state, will perform the constitutional duty of the king by signing the draft law into law.
During a press conference on April 7, Hun Sen said that there currently was only a 1-percent chance that the state of emergency would be declared in the country. However, he insisted that the government needs to have an emergency law on hand in case the situation would turn into a crisis.


Related Articles