The New Airport in Siem Reap Province Set to Open in Three Years as Planned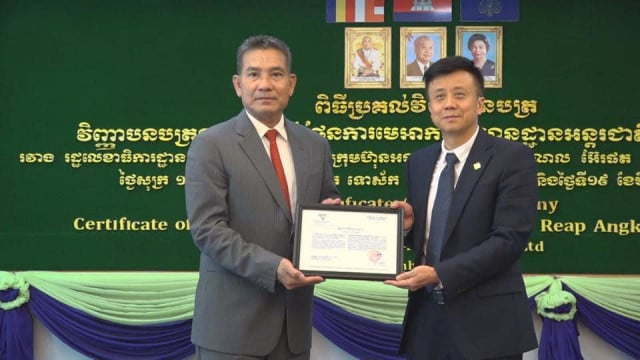 Phoung Vantha
June 19, 2020 11:49 AM
Built through Chinese investment, the facility will be the largest airport in the country

PHNOM PENH—Construction of the new international airport in Siem Reap Province is scheduled to be completed within three years as planned, Mao Havannall, secretary to the Secretariat of Civil Aviation, said.

This announcement, which was posted on the secretariat's Facebook page, was made following a meeting on June 19 during which Havannall presented the Siem Reap International Airport Master Plan Certificate to Lu Wei, director of the Angkor International Airport Investment (Cambodia) Co.

Construction of the new airport, which started this year on March 15, will take 36 months and end on March 14, 2023, Havannall said according to the Facebook post.

Angkor International Airport Investment (Cambodia) Co., which operates under the Chinese state-run Yunnan Investment Holdings, has obtained in 2017 a 55-year concession contract from the Cambodian government for the new airport. The project is believed to represent an investment of around $900 million on the part of the company.

The new airport, which is set to be the largest in the country, will be located 51 kilometers southwest of Siem Reap City and about 40 kilometers from the Angkor Archaeological Park. It will cover an area of around 700 hectares.


Related Articles