The Number of COVID-19 Cases in Cambodia Reaches 84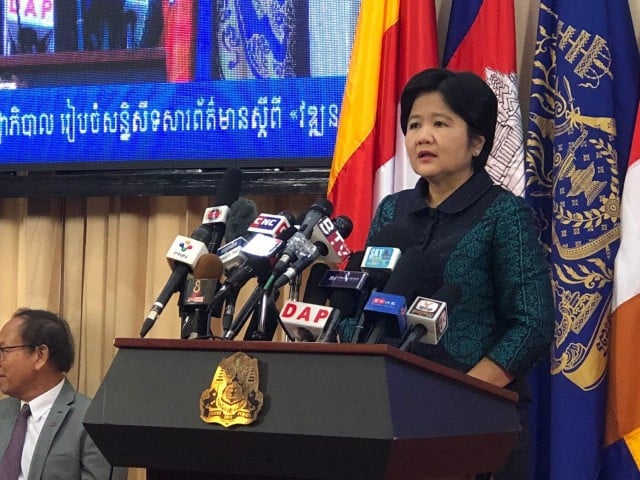 Sao Phal Niseiy
March 22, 2020 5:25 PM
While Cambodian workers hurry home as borders close to prevent the spread of the disease

PHNOM PENH--The Ministry of Health announced Sunday night (March 22) that 31 new cases of the Coronavirus Disease 2019 (COVID-19) had been confirmed a few hours earlier in Preah Sihanouk Province.
According to a statement issued by Or Vandine, secretary of state and spokesperson at the Ministry of Health, these new cases consist of 29 French nationals and two Cambodians who are tour guides. They now are in quarantine and under treatment at a hotel in Preah Sihanouk Province, she said.

These French patients are part of a group of 36 French tourists who arrived in Preah Sihanouk Province on March 18. Two of them were confirmed to have contracted COVID-19 on Saturday night (March 21) while the remaining five members of the group have tested negative.

With these new cases, the number of people to have contracted COVID-19 in the country now totals 84.

Cambodian workers are returning home as border checkpoints with Thailand close
Migrant workers in Thailand have been reportedly coming back to Cambodia through the border checkpoints over the last week or so.

Heng Sour, spokesman for the Ministry of Labor and Vocational Training, has exhorted Cambodian workers returning from Thailand and others returning from abroad to carry out self-quarantine in order to prevent the spread of the virus among their families and the community.

"There are a lot of our people returning home from abroad including our workers in Thailand," Heng Sour said on his Facebook page Sunday evening

"I would like to urge all of you to keep at a distance from your family members and not to meet your friends for a period of time: Please wait 14 days," he said, 14 days being the period during which symptoms would appear if a person had contracted the disease.

The influx of Cambodians comes as Cambodia and Thailand have agreed to close 24 border checkpoints—including the Poipet International Checkpoint—in an effort to prevent the spread of COVID-19. According to a spokesperson for the General Department of Immigration, the Poipet checkpoint, will be closed from Monday (March 23) until April 5.

The Thai government also ordered supermarkets and malls in Bangkok to be closed from Sunday to April 12, according to the Bangkok Post newspaper.
Related Articles