The Number of COVID-19 Cases Involving Migrant Workers Keeps Going Up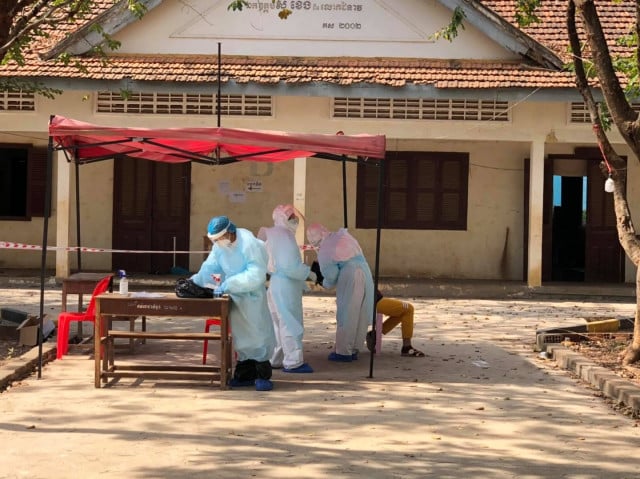 The ministry called on the public to remain highly vigilant about as more workers returning from Thailand get infected with the virus.
PHNOM PENH--The Cambodian health authorities on Jan. 15 reported new coronavirus cases involving Cambodians coming back home after working in Thailand.
"There are 15 new COVID-19 cases who are migrant workers returning from Thailand," said Or Vandine, spokesperson for the Ministry of Health.
According to Vandine, nine patients were put under treatment at the Pailin Provincial Referral Hospital, five were hospitalized at the Banteay Meanchey Provincial Referral Hospital, and one patient has been hospitalized at the Oddar Meanchey Provincial Referral Hospital.
The ministry also announced four recoveries involving migrant workers who had been under care at the Pailin hospital. They were discharged from the hospital after testing negative two times for the coronavirus.
As of Jan. 15, Cambodia had recorded 426 COVID-19 cases nationwide with 381 patients having recovered and 45 hospitalized.
In view of the rising number of coronavirus cases among migrant workers, Vandine said, the public must remain highly vigilant about protecting themselves from COVID-19 infection even though the country recently managed to put an end to the community outbreak believed to have been triggered on Nov. 28, 2020.
"The infection number is getting higher and we have been thinking…that the number will rise continuously," she said. "[Therefore]…people, please don't be careless about the virus."
Vandine called on people to adhere to the safety measures set by the health authorities, which include avoiding crowded places and washing one's hands more frequently.
According to the Coronavirus Resource Center at the John Hopkins University of Medicine in United States, over 93.5 million cases of COVID-19 had been identified worldwide as of Jan. 15, with the number of deaths due to the disease exceeding 1.9 million.
Related Articles