The Number of COVID-19 Cases Linked to Cambodia's Latest Community Outbreak Keeps on Going Up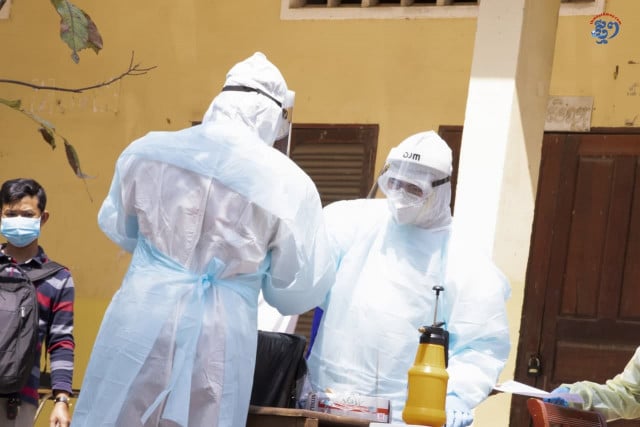 Phoung Vantha
March 7, 2021 5:02 AM
The health authorities have detected 31 new cases in Phnom Penh and three provinces
PHNOM PENH--The health authorities on March 7 reported that 31 additional COVID-19 cases related to the Feb. 20 community outbreak had been identified. In addition, three Cambodians returning from overseas tested positive for the coronavirus.
According to a press release issued by the Ministry of Health, the cases linked to the community outbreak include seven Chinese nationals and seven Cambodians who are now being treated at quarantine centers in Phnom Penh; one Cambodian woman in Kampong Thom Province who is receiving care at the Kampong Thom Provincial Referral Hospital; and one Cambodian man in Prey Veng Province who is receiving care at the Prey Veng Provincial Referral Hospital.
In addition, 14 Chinese and one Vietnamese nationals who tested positive for the coronavirus in Preah Sihanouk Province have been hospitalized at the Sihanoukville Provincial Referral Hospital, the Ministry of Health said.
These cases have brought to 477 the number of people who contracted COVID-19 due to this outbreak. Among them, 19 patients have recovered and been released from medical facilities.
The Ministry of Health on March 7 also reported that three Cambodian men, respectively 40, 52 and 56 years old who served overseas as United Nations peacekeepers tested positive for the coronavirus upon their return to Cambodia on Feb. 28. They are being treated at the Training Centre for Multinational Peacekeeping Forces in Kampong Speu Province.
These latest cases have brought to 987 the total number of COVID-19 cases reported in Cambodia since the start of the pandemic. Among them, 510 patients have fully recovered while 476 remain hospitalized.
According to the Cambodian Center for Disease Control and Prevention (CDC), 527,762 COVID-19 tests have been carried out in the country. While it is unclear how many people were tested, the CDC said that Cambodia has conducted 31,414 tests per million people.
Related Articles