The Paul Dubrule Hotel and Tourism School Celebrates 20 Years of Training Tourism and Hospitality-Industry Professionals in Cambodia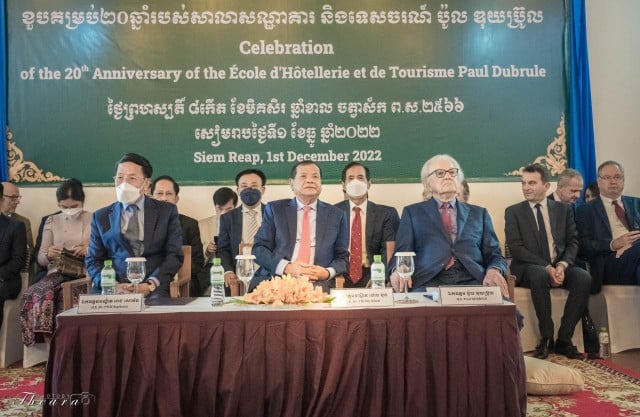 Phnom Penh — The Paul Dubrule Hotel and Tourism School in Siem Reap city has celebrated its 20th anniversary on Dec. 1—20 years during which its specialized teachers have trained nearly 5,000 students to meet the needs of the tourism and hotel-and-restaurant sectors in the country.
"The school has been training young Cambodians as tourism professionals since 2002," said François Schnoebelen, principal of the school during the anniversary celebrations on Dec. 1. "By 2022, there will be a total of 4,955 people," he said, who will have studied at the school. And this, in addition to the current 125 women and 62 men students, he added.
Among them, 3,697 students, including 1,553 women, were trained in hospitality and tourism in accordance with the ASEAN Qualifications Framework; 49 including 16 women in hospitality management skills; 892 including 146 women as professional tour guides. There also were 130 migrant workers, including 83 women, who were trained in hospitality skills and hotel services—those students did not have to pay training fees and received accommodation and meals at no cost during their training.
Among the students trained at the Paul Drubule school, more than 80 percent are working in tourism and related fields, Schnoebelen said. And before the COVID-19 pandemic, more than 90 percent of the former students were working directly in the tourism sector, he added.
Paul Dubrule, a French businessman and politician who co-founded AccorHotels in 1967 and founded the school in Siem Reap city, has donated more than $9 million in personal funds and raised more than $ 6 million from friends and colleagues to build the school as well as to fully support the training process of students over the past 20 years. "We believe that training and qualifications are the key to the future of each individual," he said.
According to Minister of Tourism Thong Khon, this school is the first and leading school in ASEAN that effectively provides training in accordance with ASEAN standards. Thousands of students have graduated from the school with ASEAN-recognized degrees in the ASEAN framework, he added.
Monny Rainsy, deputy governor of Siem Reap Province, said that students should pursue such specialized training, which supports the tourism and related fields in Siem Reap province as well as in the whole country.
The Paul Dubrule Hotel and Tourism School, whose training includes field trips and internships, is set up with school as well as hospitality-industry facilities. This includes 12 fully-equipped classrooms, three computer labs, a library with more than 2,500 books, two seminar rooms, one auditorium, a training restaurant, a pedagogical kitchen, a pastry workshop, a bakery workshop and four training hotel rooms.
Related Articles
February 23, 2022 7:14 PM