The Phnom Penh Court Postpones Radio Free Asia Journalists' Verdict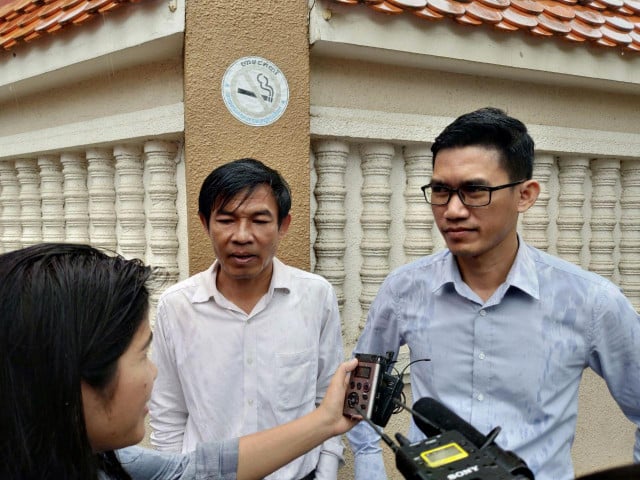 Phoung Vantha
August 30, 2019 9:53 AM
Phnom Penh --The Phnom Penh Municipal Court Friday postponed indefinitely the pronouncement of the verdict in the case of two former Radio Free Asia (RFA) journalists charged with espionage.

The court clerk made the announcement without giving any indication as to when this will take place.
The trial of Uon Chhin and Yeang Sothearin, who were charged with espionage for allegedly passing information to a foreign government and later also charged with pornography, ended on August 9 with the judgement set to be rendered Friday.
Chhin said Friday that the verdict was postponed due to the judge in the case attending a 2-day workshop in Singapore and not having left word as to when the verdict might be pronounced.
In the meantime, the two journalists, who deny having committed espionage or being involved in pornography, are left with the uncertainty of not knowing what will happen to them and cannot get on with their lives, Chhin said. "I am concerned on how my life will be in the future. I don't have the freedom to go somewhere or do something like finding a job.
"I want to continue my journalist job, but the verdict has not been announced yet. It's hard in my life right now," he said.
Yeang Sothearin said he hopes the court will conclude their case as soon as possible because, he said, "we want to have clear life-plan goals.
"I want the judgment to be pronounced [and this to] end as soon as possible because the postponement is depriving us of our freedom. If the postponement continues for three more months, I have no freedom for three more months," Sothearin said while standing in front of the Phnom Penh Municipal Court after the court clerk's announcement.
Chhin and Sothearin called on the judge to pronounce the verdict as soon as possible.
The two former Radio Free Asia journalists were charged with espionage in November 2017, and later on charged with pornography. They were in detention for 10 months in Prey Sar prison and were released on bail in August 2018.
Related Articles