The Phnom Tamao Wildlife Rescue Center Is in Trouble Due to COVID-19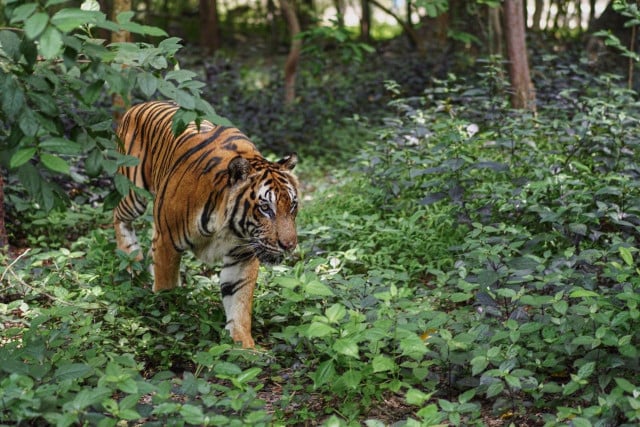 The lack of visitors has slashed revenues needed to care for the animals

PHNOM PENH—The Phnom Tamao Wildlife Rescue Center (PTWRC), which is Cambodia's only national zoo, has been having a hard time since the start of the pandemic.
With very few tourists, the need to practice social distancing plus restrictions put on travel inside the country to prevent the spread of the Coronavirus Disease 2019 (COVID-19), the center has lost its main source of revenue.
"Both Wildlife Alliance and the Forestry Administration require a great deal of money each month to care for the animals at PTWRC," the department of Rescue and Care at Wildlife Alliance said in an email interview on April 7. "COVID-19 has badly hit our ability to raise funds as visitors to the center have almost ceased."
Created in 1995 by the Cambodian government's Forestry Administration to serve as a non-profit wildlife rescue center and zoo, it is currently home to around 1,700 animals—the number is fluid as animals arrive and others are released every week, the Rescue and Care department said in the interview.
"Phnom Tamao continues to this day to act as a rescue center where animals that cannot be immediately released back in suitable habitat by our Wildlife Rapid Rescue Team are provided temporary or permanent sanctuary," the department explained.
Animals that have been injured physically or psychologically and cannot be released back into the wild are given lifelong sanctuary at the center.
Feeding the tigers and elephants alone costs $30,190 last year, according to the Wildlife Alliance's 2019 Annual Report. And $137,739 was needed to feed all the other animals at the center, the annual report said.
"Given the sudden downturn in tourism, and the fact this sector is likely to take months—if not years—to recover, we are urgently attempting to source alternative funding to ensure our work can continue," the Rescue and Care department email read.
Most donors providing support to the center are private foundations and individuals.
Even though the center has lost a significant source of funding, the Rescue and Care department said, "we will continue to rescue, rehabilitate and release animals confiscated from the wildlife trade.
"However, how we operate moving forward will change significantly," the message read, due to the loss of funds.
The Rescue Center is now offering several means for people to support its work: animal sponsorships, virtual gift shop, donations as well as discounted pre-booked tours to take place when operations resume—they can be booked by contacting [email protected]).
For more information on the Rescue Center, visit the website: www.wildlifealliance.org/wildlife-phnom-tamao
Related Articles