The Power of Education Can Prove Women Can Do What Men Do!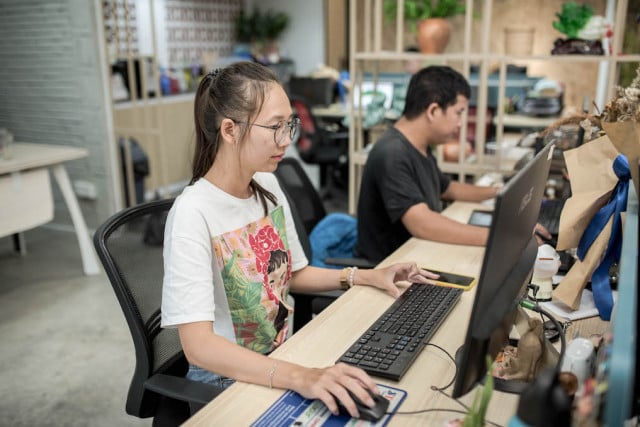 KOUPREY Creative Solutions
December 4, 2020 4:46 AM
"Education is indispensable for everyone regardless of gender and race. Without education, I would not be able to imagine how my life would be," says Ms. ROS Chheangsene, Graphic Designer at KOUPREY Digital.
In Cambodia, gender disparity in education remains a burning issue and development challenge due to the low levels of literacy and large gaps of dropout, in which women are particularly more disadvantaged than men in older age groups. However, there has been an improvement in gender parity in education in younger age groups in the last few years, according to the Cambodia Gender Assessment of the Ministry of Women's Affairs.
Born in an ordinary family in Phnom Penh, Ros Chheangsene, 27, is one of the lucky women, who could pursue a higher education and have a chance to achieve her dream in Graphic Design while in Cambodia a number of girls, who are living in rural areas, especially those who are from ethnic minorities, are generally more disadvantaged than others.
Graduating in 2015 with a bachelor's degree in Visual Communications Design under the scholarship of Royal University of Fine Arts, she is currently working as a Graphic Designer at KOUPREY Digital, a digital marketing agency that provides services in digital marketing strategies and innovative solutions.
Here, she shares her graphic design venture and how she has overcome barriers to achieve her dream:
My Early Journey in Graphic Design
Let me recall how I started to take my footpath into the graphic design field. In the last 9 years ago, I enthusiastically decided to pursue a bachelor's degree in Visual Communications Design because when I was knee-high to a grasshopper, I was very fascinated with the computer (Information Technology) and was always excited to think out of the box.
In addition, my older brother, who was a Graphic Designer, was also an influential inspiration for me to choose this major, and he taught me how to use Photoshop. Also, I myself also aspire to broaden my professional skills in design on the logo, packaging, product, and so on.


Pave Your Way and Strive to Achieve Your Dream
Working at KOUPREY, I can gain more hands-on experiences to brush up my skills in design because all the people at the company are very experienced, talented, and creative and they are very supportive technically and emotionally to push up each project forward. For example, whenever I get stuck behind my desk to come up with any artwork's concept, the team always gives me a helping hand and it really gets all the worries off my chest.
Honestly speaking, I think that KOUPREY is a good workplace for me because I could gain both bittersweet experiences, which broaden my professional horizon, and more practical skills from people from all different walks of life.
Additionally, I believe that this career is an important stepping stone to explore more into management and leadership skills so that it will be truly beneficial for my future goal since I wish to operate my own business in the future. More importantly, within this experience, I will not only improve myself step by step but also understand my strength and weakness so that I could exactly strengthen my personal and professional growth.
To Get Ready for What You are Doing, It Starts from You to Improve Yourself
Well, it is generally believed that "No Pain, No Gain". Personally speaking, to keep my study on the right track, I always sought more advice from lecturers and friends whenever I fell behind with any subjects. In addition, to sharpen my skills, I spent most of my time in the library to do more research and to learn more technical skills such as Illustrator and Photoshop on YouTube.
Similarly, working as a graphic designer requires more creative and fresh ideas.
To deal with this challenge, I usually do more research on different websites to critically understand the various concepts of famous artists around the world. Therefore, I could generate an innovative and inspiring concept by combining what I learned from various sources so that I would be able to make something new and interesting for clients.
Also, to unlock my potential in the team, I always put more effort to holistically understand all the core concepts of every project and try my best to work on it. Additionally, I keep proposing innovative ideas to clients and researching more about the client's business and what they are focusing on.
Never Let Your Surroundings Limit Your Opportunities
Frankly speaking, gender imbalance is apparently noticeable in the graphic design sector since the number of female graphic designers is in a serious shortfall. When I studied at university, the number of women was not really low. However, after graduating, they just worked in this field for a few years, and they quit their job to shoulder the burden of taking care of their family after getting married. Others might decide to operate their own business in another field.




For my recommendation, if they are really enthusiastic about this field, they are highly recommended to research more about the courses and the subjects because commonly people get confused that graphic design is more related to Information Technology and they probably think that it is more likely to be suitable for men rather than women. Furthermore, I think studying in a male-dominated environment is not really a challenge for us anymore because right now everyone has equal rights and people get to understand gender equality more as well.
Besides, I think the family barrier might also be one of their challenges because their family members might think that this major doesn't fit women and it is not a well-paid job. Thus, they might suggest their daughters study Banking, which was generally viewed as a white-collar worker.

Fortunately, my parents always encourage me to study whatever I like because they entirely understand that if I choose to do what I like, I will have the motivation to achieve and will never drop it. Meanwhile, I also explained to them to make sure they comprehend the reason why I chose this major. As I remembered, I told them that with the advanced technology, we will be able to gain more opportunities from this major. In addition, due to the fact that my brother is a Graphic Designer, it is very easy for them to unconditionally accept my explanation.
Related Articles