The Role of Buddhist Pagodas in Supporting Education in Cambodian Society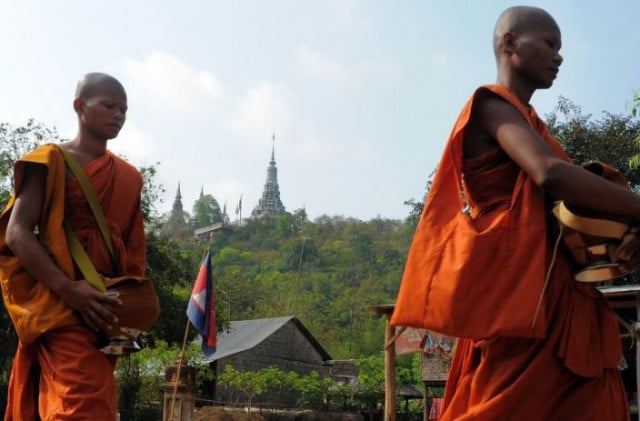 Rim Sokvy
December 30, 2020 6:36 AM
Since ancient times, Buddhism has played a vital role in education in Cambodian society. Even after the arrival of the French educational system, the role of Buddhist pagodas in supporting education in Cambodia has remained crucial. After the first modern school, called the French Language School of the Protectorate, was built in 1873 (Glass, 1995), more schools have been developed in Cambodia.

According to the Ministry of Education, Youth, and Sports (MoEYS), there are 12,889 public schools, including primary, secondary, high school, have been built in the Kingdom (MoEYS, 2017). Despite these growing numbers of institutions using modern education systems, the importance of Buddhist monasteries in Cambodian education remain.
As Buddhism has been integrated into Khmer culture and society, Buddhist monks have played an integral part in society, particularly in education. In each festival and ceremony, Buddhist monks are ritually invited to preach the Dharma to gatherings of 20 to 30 people or more (Ross, 1987). The teaching is in the form of advising and involves morality, social values, culture, and religious beliefs. Though the learning is not like any formal education with a clear timeline and curriculum, it is conducive for laypeople to absorb knowledge (Soung, 2018). They always pay attention and respect the Buddhist monks' highly cherished lessons.

If the onlookers pay enough attention, it will help liberate them from ignorance and worldly desire, ultimately helping them to become enlightened. The teachings can help mostly older people to absorb knowledge about religions, cultures, and history. More importantly, it is easily accessible to all citizens and it has contributed knowledge regarding religion, culture, and moral values to older generations of Cambodian people who, in their youthhood, were troubled by prolonged civil war and not fortunate enough to receive a formal education.

Though the education provided by Buddhist monks may not contribute much to the development of human resources needed for the Cambodian labor market, particularly in terms of addressing the skills gap and lack of skilled workers, the teachings have raised social value and morality in the Kingdom (Chan, 2010).
In the past, most Cambodian scholars and leaders were trained and educated in pagodas. Buddhist pagodas have supported the poor and unprivileged Cambodians to pursue education, especially higher education (Im, 2012). Currently, monasteries give accommodation, food, support, and education to nearly 60,000 monks in 5,000 pagodas around Cambodia.

Samdech Chuon Nath, Prime Minister Hun Sen, and even King Norodom Sihanouk were ordained and lived in Buddhist monasteries (Mydans, 1998). At present, pagodas still play an essential role in providing education to those who cannot afford a private education. Many Cambodians from less privileged backgrounds have chosen to become Buddhist monks or pagoda boys to seek shelter, food, and education. Though not all people from low socioeconomic backgrounds choose to become a monk, the Buddhist temples have helped enhance Cambodia's education in many ways (Martin, 2015).
As there are around 565 Buddhist schools with approximately 17,000 students, pagoda-based education plays a supplementary role in enhancing education in Cambodia (Adams, 2012). Additionally, Buddhist schools offer scholarships to outstanding students to encourage hard work. For instance, 600 students participated in an exam for a scholarship to study at Preah Sihanouk Raja Buddhist University in 2018 (Fresh News, 2018). Education offered in Buddhist schools does not differ much from that offered in public schools or universities as it includes common subjects such as engineering, science, medicine, and health, among others (see uniRank, n.d.).
The Buddhist temples are not only for monks, so ordinary people can also come to live in the pagoda and pursue education. Particularly in Phnom Penh, as accommodation and living expenditure are expensive, poor people often rely on pagodas to study in Phnom Penh (Im, 2012). According to Chea Ly, Secretary General of Khmeng Wat Association, there are currently around 4,000 students living in the pagodas in Phnom Penh (May, 2008). The number, excluding monks who enroll in public schools, is equal to 2% of Cambodian university students studying in 2009-2013 (MoEYS, n.d.). The figure indicates that Buddhist pagodas still play a vital role in Cambodian public education, especially for people with low socioeconomic status.
Buddhist temples are not the only shelter for monks and kmeng wat (i.e., pagoda boys or men), but they are also an important source of knowledge and architectural styles necessary for research and innovation (Sassoon, 2017). For instance, some of the temples in PP such as Wat Ounalom and Wat Langka were constructed in 1443 and 1442, respectively, long before the French colonialism. Despite their old age, some of their paintings, sculptures, and decorative arts remain intact (Wilson, 2016).
The Buddhist temples are vaults for knowledge, including history, ancient social and legal systems, and traditions across generations. The information was inscribed in sleuk rith (palm-leaf manuscripts), considered valuable documents. Leng Kok An, the director of Sleuk Rith Institute, said that most of the palm-leaf manuscripts are over 100 years old and hold knowledge of Khmer history, culture, and social interaction from before the French colonialism (Taing, 2019). Moreover, most of the sleuk riths have been stockpiled and are held at Sleuk Rith Institute in Ounalom pagoda. According to Chen Chanratana, an archaeologist and historian, the technique of inscribing texts on the sleuk rith was an indispensable part of Cambodia's traditional education, allowing people to transfer skills and information regarding the social and legal systems for generations. He said that "in the past, young Cambodian people went to the pagoda to study, that's why these manuscripts were made and kept at the pagoda all over the countries." (Taing, 2019, para. 10).
Overall, even though there are discussions of the decline of Buddhism and the growing importance of modern education in Cambodia (Black, 2017), it is still noteworthy to acknowledge that Buddhist temples play a complementary role in enhancing Cambodian education. During the Sangkom Reastr Niyum (People's Socialist Community), the Buddhist educations provided by pagodas were well nourished and flourished. Even during the Khmer rouge regimes when temples were destroyed and monks forced to leave monkhood, the pagoda-based education has resurrected and survived when people were liberated from the genocidal Khmer rouge regime. This reflects that the educations provided by Buddhist pagodas in Cambodia are beyond physical appearance such as buildings, but it is something at the heart and soul of Khmer culture. For centuries, pagodas have been the sole place of education and training of moral values (Filippi, 2011). In the current context, the role of Buddhist pagodas in supporting education in Cambodia remains pivotal. Perhaps as Nicholas Hemingway, a guest editor of Cambodian Education Forum puts it, "the teachings of Buddhist monks are immortal and will remain an essential part of Cambodian culture. The temple and those living in them will remain a relevant part of the Kingdom forever since the values held at these institutions cannot be tarnished by time."
Rim Sokvy is an intern at Cambodian Education Forum. He is a fresh graduate in International Relations from the Department of International studies, Royal University of Phnom Penh and a former intern at Konrad Adenauer Stiftung Cambodia.
This article was originally published by Cambodian Education Forum on December 25, 2020.
Related Articles