The Runner Awarded a Medal by the Rain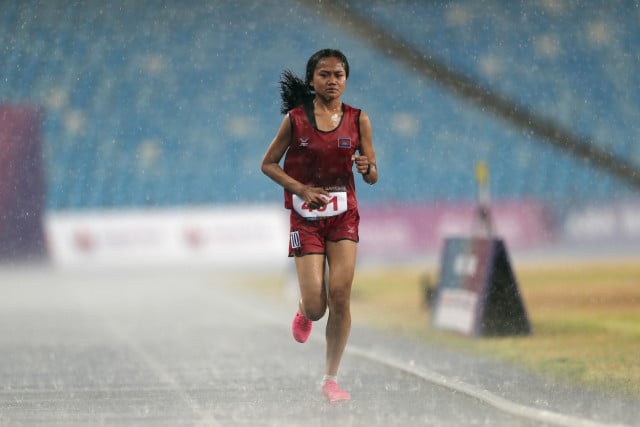 The 32nd SEA Games are behind us, marked by a beautiful shower of medals come to reward athletes and others bearing Cambodia's colors.
But the rain that I will remember of this sports event is not that one. It is the rainstorm during which the long-distance runner Bou Samnang, competing in the 5,000-meter final, moved forward at all costs.
The gold medal winner of the race had long crossed the finish line. Bou Samnang was going to be the last one to do so and knew that she would get no medal. But she did not give up.
As she was crossing the last meters, a thunderstorm broke out.
You who are the last, here is your medal. This rain under which you are running is worth all the gold, silver or bronze medals.
Under this downpour, you will cross the finish line, and then waved, in tears, at the people while carrying the Cambodian flag.
Now you have become, through divine grace and the strength of your character, a national heroine.
I read somewhere that you embodied at that moment the Cambodian virtues of courage, selflessness and resilience as if those were specific to a people, a nation.
Those are specific to the whole of humanity when we have to recover from a tragedy that has struck.
Thank you, Miss Rain Medalist, to have shown us what is the best in us.
Related Articles