The Tradition of the Trot Dance at Khmer New Year Is Fading Away, Some People Say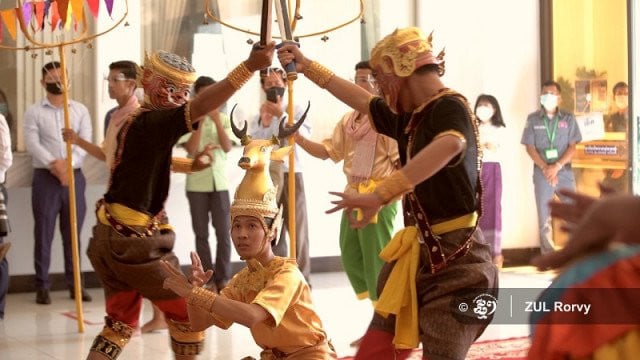 Efforts should be made so that this dance and the meaning it carries will not disappear, they say

PHNOM PENH—The robam trot, or trot dance, is a popular Cambodian folk dance that is usually performed during Khmer New Year to ward off bad spirits, and bring in abundance and rain for the crops during the months to come.
However nowadays, young people don't seem to know this traditional dance or its meaning, and in recent years, performances of the dance are not as frequent as they used to be, some people say.
Sim Phal Thida, who lives in Phnom Penh, said that she has not been able to see a trot dance performance for many years.
As she explained, she used to watch it on television during the new year celebrations, aware that a trot dance was performed to ward off bad luck and would bring her family prosperity and happiness during the coming year.
This dance, which is part of the country's heritage, may be lost and along with it some of its people's identity, Phal Thida said. The more so that some young Cambodians are less interested in traditional dances, she added.
''I want our Cambodian people to work together to preserve culture, such as this traditional dance," she said. "If we do not help preserve it, it will be lost."
First staged in Battambang and Siem Reap provinces although its origins may go back centuries, the robam trot stopped being performed during the Khmer Rouge regime in 1975 and was revived after Pol Pot's defeat in 1979.
Chhim Kol recalled that, as a child, she often saw traditional dances performed on television, especially during the Khmer New Year celebrations. But lately, this dance as well as some traditional new-year games seem to have lost their popularity among the population, she said.
Over the next years, Kol said, "people should try to promote our traditional Khmer dances as a way of preserving the heritage of our ancestors." She called on people to have this dance performed in villages, districts and provinces across the country so that young people can see it and learn about its meaning.
Asked about this dance, Hang Sokpich, a young man from Kampong Thom Province, said that he did not know the origins or the meaning of the trot dance although he has seen it performed several times during Khmer New Year in past years.
Related Articles