The UN Human Rights Office in Cambodia Offers Training to the National Police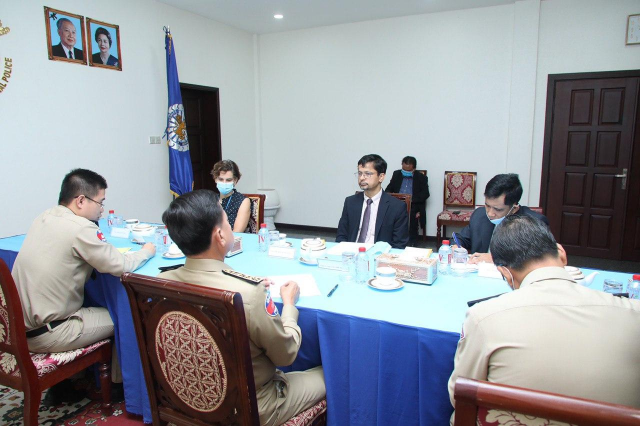 Torn Chanritheara
June 12, 2020 8:22 AM
The National Police says it is looking into the proposal

PHNOM PENH—The United Nation High Commissioner for Human Rights (UNHCHR) in Cambodia has requested cooperation from the National Police to train its force on the respect of human rights.
The request was made during a meeting between General Neth Savoeun, general commissioner of the National Police, and Pradeep Wagle, the UNHCHR's representative, according to a statement posted on the National Police website on June 11.
At the meeting, Wagle highlighted the cooperation that exists between the Cambodian government and UNHCR through various memoranda of understanding, and raised the issue of mob violence, offering to provide the police training on the respect of human rights when they have to deal with such situations.
"The UN official requested [from] the National Police to cooperate and work together on the issue," the statement read. "[Savoeun] requested a preliminary review of the UN Human Rights Office's proposal on training and wanted to know about the level and [details] of the proposal."
According to the statement, Savoeun regarded the meeting as "important" and another milestone in exchanging views between the National Police and UNHCHR. Regarding mob violence, he said that Cambodia has not experienced this as a major problem and that he wanted to look into the training program before making a decision, the statement read, adding that Savoeun had agreed to police training programs in the past.
During the meeting Savoeun and Wagle agreed to continue cooperating when UNHCHR requests to meet with heads of the National Police in Phnom Penh or in the provinces, and to strengthen cooperation between law enforcement and human rights organizations.
Related Articles