The United Kingdom and Cambodia Set Up a Trade/Investment Forum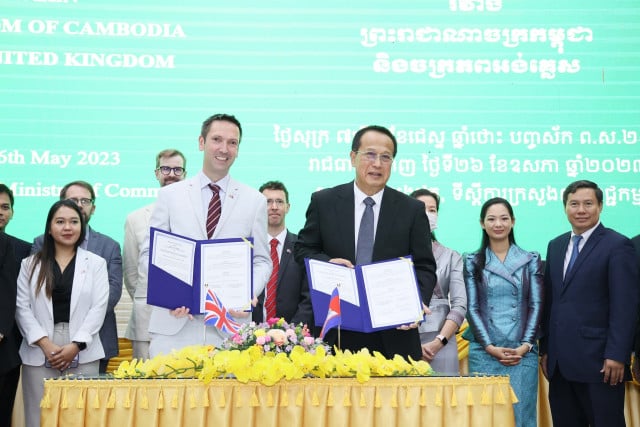 PHNOM PENH — The United Kingdom (UK) and Cambodia launched their first joint trade and investment forum on May 26 to further cooperation and economic growth as the trade volume between them has increased by 51.4 percent, nearly reaching pre-pandemic levels.
The two countries signed a Memorandum of Understanding on the new forum to provide ongoing opportunities to review their trade and investment relationship, identify actions to further strengthen trade, and provide businesses with opportunities to get involved directly with policymakers.
According to a press release of the UK's Department for Trade and Investment, the talks were attended by Cambodia's Minister of Commerce Pan Sorasak, British Ambassador Dominic Williams, and Sam Myers, British deputy trade commissioner for Southeast Asia.
"Trade and investment are powerful tools for supporting economic growth and creating high quality jobs for our people," Williams said, according to the press release. "They also have an amazing ability to build new connections and strengthen our overall relationship. So, I'm delighted that we have launched the Cambodia-UK Joint Trade and Investment Forum to work together to encourage even greater collaboration between our businesses, for the benefit of both our peoples."
During the talks, both countries acknowledged Cambodia's rapid economic growth in 2022, which reached £1 billion (approximately $1.2 billion), the press release stated. Marking the range of trade and investment opportunities in Cambodia—which is one of the ten beneficiaries of the UK's Developing Countries Trading Scheme since April—the figure shows that the trade volume has nearly reached pre-pandemic levels.
According to the UK department's report issued on May 18, the trade volume between the two countries was £1,090 million (approximately $1.34 billion) in 2019. This started decreasing during the COVID-19 outbreak, dropping to £762 million (about $942 million) in 2020 and then to £662 million (approximately $818 million) in 2021.
However, trade volume started going up again, reaching £1,002 million (over $1.2 billion) in 2022. This increase represented a jump of 51.4 percent, that is, £340 million (more than $420 million), compared to 2021.
In recent data, United Kingdom's exports of goods to Cambodia had jumped by 63 percent by March this year while Cambodia's exports to the UK increased by 41.6 percent compared to the same period in 2022.
Related Articles