The United States and Southeast Asia: An Enduring Commitment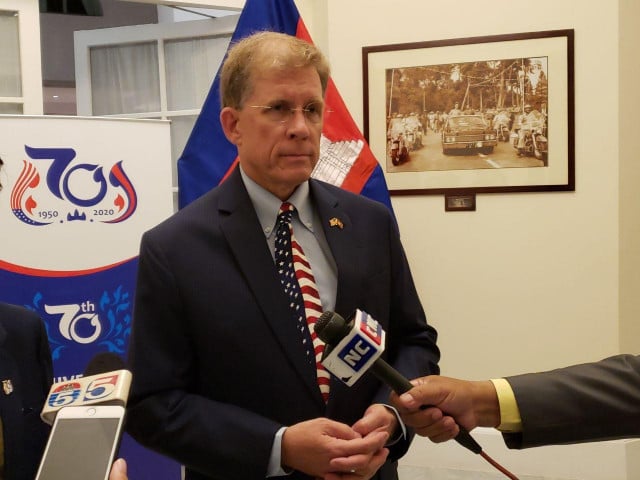 W. Patrick Murphy
November 6, 2020 3:28 AM
In July 1950, three years before the Kingdom of Cambodia gained its full independence, American Envoy Donald R. Heath journeyed from Vietnam to Phnom Penh to present his credentials to His Majesty King Sihanouk, marking the establishment of diplomatic relations between our two nations.

We're commemorating the 70th anniversary of that momentous occasion throughout 2020 by highlighting each month a different facet of our bilateral cooperation, including public health, the environment, agriculture, gender equality, youth and education, trade and investment, democracy and governance, and more.
For November, we're spotlighting U.S.-Cambodia cooperation in the Association of Southeast Asian Nations (ASEAN) and other regional initiatives. As with U.S. support for Cambodia's accession to ASEAN in 1999, the United States maintains a longstanding commitment to ASEAN. In fact, 43 years ago the United States became the first partner country to establish dialogue relations with ASEAN. More recently, in 2011, the United States was the first dialogue partner to open a resident mission in Jakarta, home of the ASEAN Secretariat, with an Ambassador to ASEAN. This should not come as any surprise. The organization's founding principles -- respect for sovereignty, rule of law, transparency, openness, and inclusivity -- are at the core of the U.S. Free and Open Indo-Pacific Strategy.
Our relationship has yielded enormous benefits for ASEAN, its member states, and the United States. The United States is by far the largest investor in Southeast Asia, bringing high-quality investment and a commitment to international labor and environmental standards. The United States also maintains a robust trade relationship with the region, reaching $355 billion just last year. Our economic relations support millions of jobs for the people of the region and fuel sustainable economic growth.
In Cambodia, our trade relations are growing rapidly, with bilateral flows on track to top $6 billion in 2020, an increase of nearly 90 percent over the past five years. These strong ties assist with Cambodia's development, and also provide the Kingdom vital and irreplaceable economic benefits during the ongoing COVID-19 pandemic. Since the outbreak, the United States has been Cambodia's largest donor, providing more than $11 million in COVID-related assistance to support support public health response and economic recovery. This bilateral aid is part of the over $87 million the United States has provided to ASEAN countries specifically to fight COVID-19, which complements the existing resident expertise and assistance from leading U.S. health agencies, including here in Cambodia, such as the Centers for Disease Control and Prevention (CDC), the National Institutes for Health (NIH), and the U.S. Agency for International Development (USAID). We are committed to making a vaccine, produced by the world's best pharmaceutical companies, available to the region as soon as it is available.
The newly launched U.S.-ASEAN Health Futures Initiative builds on this assistance, leveraging U.S. expertise to enhance regional scientific cooperation, augment disease surveillance, and conduct cutting-edge research, protecting us all against future disease outbreaks.
The United States contributes to the region's peace and prosperity in numerous other ways as well. Through longstanding partnerships with ASEAN-member educational institutions, exchanges among our respective experts, and leadership programs, we have invested in human capital development and strengthened local capacity to confront environmental challenges, address maritime issues, and protect natural resources.
Since 2013, the popular U.S.-led Young Southeast Asian Leaders Initiative -- or "YSEALI" -- has helped the region develop human capital by facilitating exchanges for 120,000 young professionals, including thousands from Cambodia. The United States also helped establish a regional counter-terrorism center in Singapore, where our security professionals can work together to keep our citizens safe. We also engage Southeast Asia in an inclusive manner, including by supporting Timor-Leste in its own regional integration efforts.
Today, unanticipated global and regional challenges emerge at a frightening pace. An unprecedented pandemic is threatening the health and well-being of our peoples and economies. Upstream dams have dwindled Mekong River water levels and threaten the livelihoods of entire communities downstream. Increasingly aggressive actions at sea threaten long-respected, international maritime principles. Through our partnership with Southeast Asia, and through increased collaboration, we will confront these challenges together.
Recognizing these challenges, the United States and the five Mekong countries -- Cambodia, Laos, Myanmar, Thailand, and Vietnam -- recently launched the new Mekong-U.S. Partnership (MUSP), which builds on eleven years of successful cooperation under the Lower Mekong Initiative and U.S. investment of over $3.5 billion in the Mekong sub-region. Under MUSP, the United States already has initially committed over $150 million to address regional issues, like battling COVID-19; developing strong energy markets; countering transnational crime like trafficking of persons, wildlife, and illicit drugs; and conserving precious natural resources.
We are also working with private sector partners and local governments to develop regional energy markets under the Asia EDGE program, backed by $33 million in new financing. We will continue our joint efforts, including through regional mechanisms such as the Mekong River Commission and the Ayeyawady-Chao Phraya-Mekong Economic Cooperation Strategy, to ensure water from the Mekong River -- which supplies more than 25 percent of the world's freshwater fish catch - continues downstream.
In support of shared principles, peace, and prosperity, the United States and ASEAN are also working together to strengthen rule of law and respect for sovereignty in the South China Sea. The United States supports the efforts of ASEAN countries to solve maritime disputes based on international law, including the UN Convention on the Law of the Sea.
As the past year has demonstrated so clearly, the challenges we face today -- pandemics, proliferation, climate change, criminality, and terrorism -- require global solutions. No single country can solve these problems alone. We need to work together, based on shared principles and shared interests. The United States has been a strong and consistent partner to the Cambodian people -- and the region. We remain committed to that partnership and the principles on which it is based.
As a career senior U.S. diplomat, I have had the fortune of working extensively on U.S. relations across Southeast Asia for decades. I remain inspired by the dynamism, creativity, and potential of the region and our partnership. As U.S. Ambassador to Cambodia, I am proud to lead efforts at strengthening our collaboration on regional issues as the Kingdom prepares to take over as ASEAN Chair in 2022. We are committed to working with the Cambodian government and people to make that year a success.
W. Patrick Murphy is United States Ambassador to the Kingdom of Cambodia
Related Articles