The Urban Art Festival Kicks Off with a Bang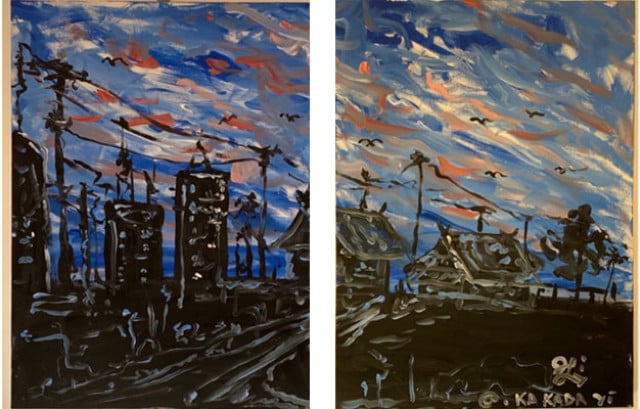 Jazmyn Himel
January 23, 2020 2:42 AM
PHNOM PENH-- Five international and Cambodian artists executed live paintings Tuesday to mark the beginning of the Cambodia Urban Art Festival at Sra'Art gallery in Phnom Penh.

All participating artists were given acrylic paint to create their improvised pieces on canvas with no time limit.
Portugese artist 'Le Funky' was the only artist who used both acrylic paint and spray paint.
Le Funky's artwork is "initially driven by graffiti," the Sra'Art gallery said on the festival Facebook page. "[h]his paintings are a visual explosion for the senses."
Artwork by artist Le Funky. Photo: Sra'Art Gallery.
Kakada Yi, an artist from Cambodia, painted one scene on two different canvases simultaneously during the live-painting session.
The Cambodian Urban Art Festival was launched by the Institut Francais in 2015. However in 2017, the event became, according to the gallery press release, "independent to develop street-art freedom of creation in public spaces in Cambodia."
This year's activities held at several venues include in Phnom Penh "City Talks and Digital Experience" Thursday at Meta House and an "Opening Party" at Friends Future Factory Friday. The festival ends Jan. 29 in Siem Reap City with a "Vespa Tour."
Related Articles