The U.S. Disappointed by Cambodia's Destruction of Naval Facility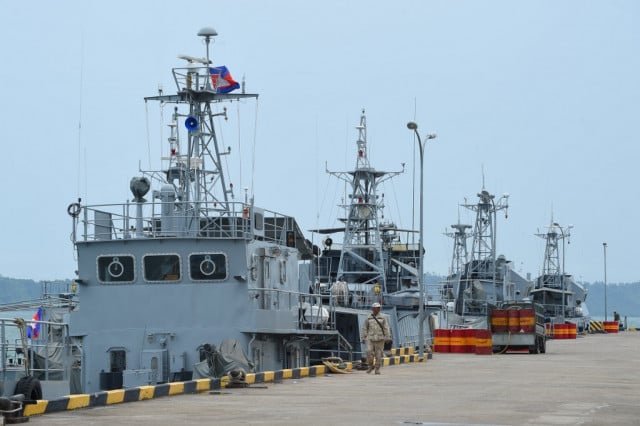 Sao Phal Niseiy
October 7, 2020 4:46 AM
As Ream Naval Base attracts more international attention over China's alleged use of the base, the US offers to play a larger role in Cambodia's development and calls for dialogue.
PHNOM PENH--The US administration on Wednesday (Oct. 7) expressed its disappointment over Cambodia's demolition of the US-funded maritime security facility. The US Embassy in Cambodia also called for more dialogue to find possible areas for cooperation in the Ream Naval Base's infrastructure development.
"We are disappointed that Cambodian military authorities have chosen to demolish a maritime security facility that is only seven years old and was a sign of US-Cambodia relations," said Chad Roedemeier, Information Officer at Embassy of the United States of America in Cambodia, in an email.
Roedemeier reiterated that the US remains concerns by the possible hosting of Chinese military assets and personnel at Ream Naval Base.
"Such a military presence would negatively impact the US-Cambodia bilateral relationship and be disruptive and destabilizing to the Indo-Pacific region," Chad said, recalling the letter sent out by President Donald Trump to Cambodian Prime Minister Hun Sen which, which he said, opened door for dialogue to increase bilateral cooperation.
Therefore, he continued, "We hope that Prime Minister Hun Sen will take us up on our offer for dialogue.
"We would welcome a dialogue about Cambodia's needs, and to identify how we can support infrastructure at Ream that would benefit an independent Cambodia and all nations supportive of a free and open Indo-Pacific."
Ream Naval base gained international attention in July 2019 when The Wall Street Journal published a story stating that China and Cambodia had signed a "secret agreement" that would allow China's armed forces to use part of Cambodia's Base.
However, the Cambodian government has repeatedly rebutted those assertions, pointing out that the country's constitution bars any foreign countries from constructing military bases or establishing a military presence on Cambodian territory.
The statement from the US side came two days after the Cambodian National Committee for Maritime Security (NCMS) also issued an announcement to clarify the decision to relocate its Tactical Command Headquarters to Koh Preap, near the port of Sihanoukville.
Recognizing that the US and Australia have provided support in the form of small-scale infrastructure development and training at the Tactical Command Headquarters, the NCMS mentioned that since 2010 the headquarters, which is an operational unit responsible for implementing multi-agency law enforcement, was temporarily set up in a small area within Ream Naval Base.
"The current TCH [Tactical Command Headquarters] location belongs to the Royal Cambodian Navy, which is small in size and limits the capacity of multi-agency operations," the statement read.
As a national institution, the NCMS explained that the headquarters requires an independent location that facilitates and enhances its operations, interventions and rescue efforts.
"In addition, the TCH needs to develop its capacity through infrastructure and operational effectiveness which cannot be achieved in its current location," it stressed, adding that it also welcomes warmly the participation of various international partners in order to enhance future operational capabilities of the headquarters.
Related Articles