The U.S. Embassy Asks the Cambodian Government to Reveal its Plans for the Ream Naval Base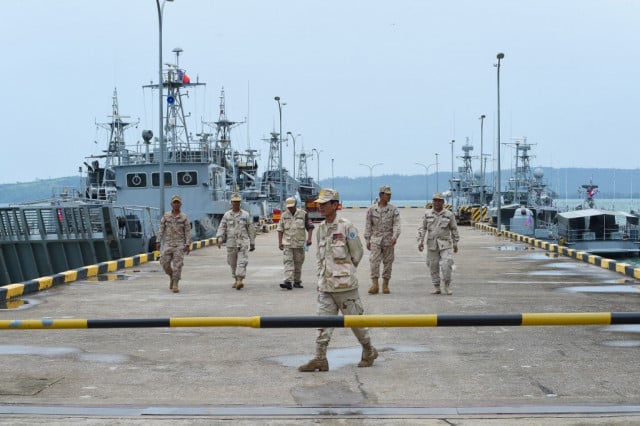 Any foreign presence at the base would affect the region, the U.S. Embassy said
PHNOM PENH--The United States on Dec. 3 responded to Prime Minister Hun Sen's orders to deny any visit to the Ream Naval Base, urging the Cambodian government to be open regarding its plans to develop the base and this, for the benefit of all parties.
"Full transparency on this arrangement would benefit the Cambodian people, neighboring countries, and ASEAN more broadly about this project, which may carry long-term implications for the region," US Embassy spokesperson Chad Roedemeier wrote in an email interview. "Any exclusive PRC [People's Republic of China] military presence at Ream would threaten Cambodia's autonomy and undermine regional security."
On Dec. 2, Hun Sen ordered Minister of National Defense Tea Banh to stop responding to any request to visit the Ream Naval Base. "Do not allow because Ream is not a place for thieves and robbers," he said.
His comments were made following a series of requests by the United States to visit the naval base where US-funded maritime security facilities were demolished as shown in satellite imagery published by the US firm Maxar on Nov. 9, 2020.
In July 2019, The Wall Street Journal had reported that China and Cambodia had signed a "secret agreement" that would allow China's armed forces to use part of the naval base.
After several requests made by the US Embassy to visit the base, US Attache Marcus Ferrara was allowed to go to the base on a visit coordinated by the Cambodian authorities in June 2021.
"When it became clear he would not be granted adequate access, Colonel Ferrara ended the tour and requested Cambodian military officials reschedule the visit with full access at the earliest opportunity," the embassy had said in a statement released afterwards.
"[I] allowed to visit but still not enough," Hun Sen said on Dec. 2. "Are you wanting to inspect or check, what role are you playing."
On Nov. 14, 2020, Economy and Finance Minister Aun Pornmoniroth had addressed the issue of a Chinese military presence in the country. Speaking during the 15th East Asia Summit, he said that Cambodia does not have and would never have a foreign military base on its territory.
Related Articles