The US Embassy Denies Intentions Attributed to US Ambassador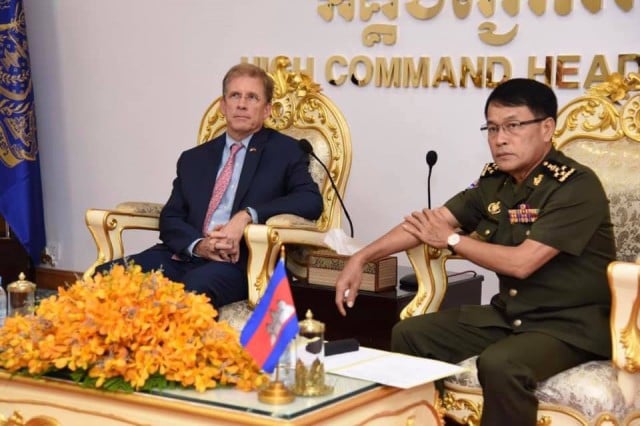 Jazmyn Himel
December 6, 2019 1:02 PM
PHNOM PENH—The US Embassy Thursday expressed disappointment that a Royal Cambodian Armed Forces (RCAF) representative "inaccurately characterized statements" made by U.S. Ambassador Patrick Murphy during his meeting with Armed Forces Commander-in-Chief General Vong Pisen on Dec. 3.

An RCAF spokesman posted on the RCAF Facebook page that Murphy was aware that news reports about a foreign military base in Cambodia were not true but that he kept on saying there might be in order to destabilize country. "The ambassador viewed the broadcast as false and wanted to undermine stability," the RCAF spokesman said on Dec. 3.
The embassy responded on its Facebook page on Dec. 4 that the RCAF spokesperson "inappropriately attributed comments" to Murphy.
However, the United States, the post read, "remain [s] concerned by media reports about potential foreign military facilities in Cambodia…[that] if realized would threaten the Kingdom's sovereignty and regional stability."
Murphy last month met with Prime Minister Hun Sen to discuss strengthening bilateral relationship between the two countries and to follow up on an invitation to Hun Sen from U.S. President Donald Trump to attend the U.S.-Asean Summit in Bangkok next year, according to the U.S. Facebook page.
Related Articles