The US Pledges $100,000 in Aid to Help Cambodia Deal with Floods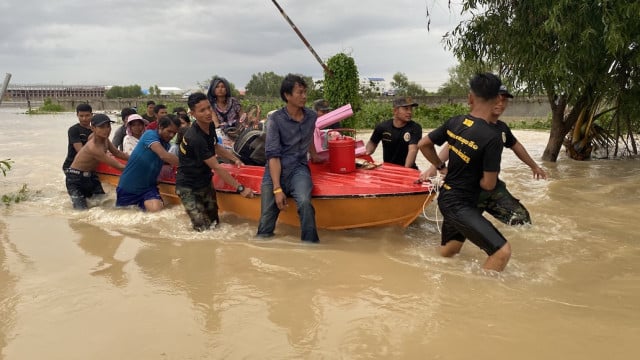 Sao Phal Niseiy
October 17, 2020 11:40 AM
This emergency assistance will be provided through USAID
PHNOM PENH--The United States on Oct. 17 pledged $100,000 in emergency assistance through the United States Agency for International Development (USAID) to support Cambodia's efforts to cope with the floods.
"The United States is providing $100,000 in immediate emergency aid to help respond to severe flooding in Cambodia, via USAID and our partners at the UN World Food Programme," US Ambassador Patrick Murphy said in a statement on his Twitter account.
"Our hearts are with those whose lives have been upended by this disaster," he said.
In a separate statement published on the US Embassy's website, USAID's Bureau for Humanitarian Assistance said that, partnering with the UN World Food Programme, its staff was set to provide emergency assistance to people impacted by the floods.
As heavy rain and storms are forecasted for the coming days throughout the Southeast Asian region, USAID disaster experts continue to monitor the country's humanitarian needs in close coordination with the local emergency authorities and partners on the ground, USAID said.



Since 2000, more than $7 million in disaster response, preparedness and risk reduction assistance has been provided by USAID to Cambodia, according to the statement.
As part of the recently launched Mekong-U.S. Partnership, the United States also contributes to boosting local disaster preparedness and responsiveness across the five Lower Mekong countries, including Cambodia, the statement read.
Since Oct. 1, as many as 19 provinces and Phnom Penh have been hit by heavy rains and flash floods, which have claimed 18 lives so far and affected 53,169 families involving more than 210,000 people, according to the National Committee for Disaster Management.
Related Articles