The U.S. Pledges to Help Cambodia Prevent Another Khmer Rouge Tragedy from Happening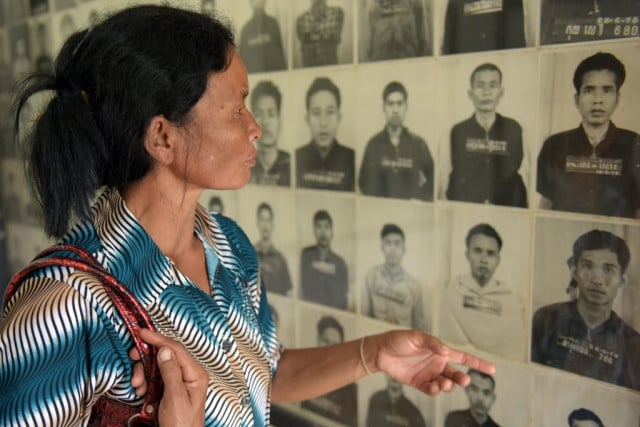 As additional funding is provided by the U.S. for medical care for those who lived through that regime, Prime Minister Hun Sen notes that Cambodia has managed to rebuild itself since that tragedy
PHNOM PENH--The US Embassy in Cambodia issued a statement on Jan. 7—the national holiday marking the end of the Khmer Rouge regime—saying that the United States intends to ensure "that such a tragedy never happens again.
"Today, we recognize the countless Cambodians, and others, who suffered or lost their lives during the Khmer Rouge era," the US Embassy wrote on its official Facebook page. "The United States remains committed to the Cambodian people and their aspirations for a more prosperous, democratic, and independent country."
Youk Chhang, executive director of the Documentation Center of Cambodia (DC-Cam)—the NGO that has researched and archived data on that regime, and also manages projects to help people who lived through it—said that the mental and physical health conditions of those who survived that era have seemed to show an improvement, especially due to the additional health services to which they have access due to a US grant.
"It has helped a lot as the project offers free-of-charge healthcare service," said Chhang. He added that he hoped the Cambodian government and other countries will contribute more to the project so that the service, which is mainly offered to Khmer Rouge survivors who are poor and live in rural areas, can be available to more people throughout the country.
On Sept. 23, 2021, USAID in Cambodia announced the new grant of $5 million to help survivors of the Khmer Rouge regime as well as their families. This brought to $6.5 million the US funding to this project named "Advancing the Rights and Improving the Conditions of the Health of Khmer Rouge Survivors."
There are 500 to 600 volunteers 18-to-25 years old who are involved in the project, Chhang said, noting that young Cambodians nowadays seem to be interested in learning about the regime as well as helping those who survived it.
"We are wrong if we think that youths are not interested in the history of the regime," he said. "Our volunteer youths can know more about the regime than some researchers due to their smartness and technology."
There are about 5 million survivors, he said, therefore, about 10 million youngsters in Cambodia are keen to learn about their parents' past, particularly the tragic parts of it, as today's young people tend to want to get the facts as to what happened during that period, Chhang said.
"We are surprised that some of them seem to have more information than some teachers," he said.
DC-Cam is trying to spread the knowledge through social media and have young people go directly to survivors' home to help them, Chhang said. Moreover, those young volunteers produce videos to be put on social media, which has helped raise awareness among other young people, in addition to the fact that lessons on the Khmer Rouge period are now part of the school curriculum, Chhang said
"In spite of these activities, we should not overlook the situation to avoid [circumstances leading to this] happening again," he said.
Between 1975 and 1979, the Khmer Rouge's policies led to more than 2 million people dying during the regime. Following the Pol Pot regime taking control of the country in April 1975, cities were emptied and people sent to labor camps. Forced labor and starvation along with a policy of torture and executions led to the population being decimated.
The middle class and intellectuals, such as physicians, attorneys, journalists, artists, and students were especially targeted. As the country was renamed Democratic Kampuchea, private property, money, religion, formal education and traditional culture were abolished.
Prime Minister Hun Sen said on Jan. 7 that, since the victory that took place on Jan. 7, 1979, Cambodia has traveled on a path with the utmost flexibility and danger, but the right path that has ensured stability and prosperity in the country.
"Embracing the lessons of experience in its history, our people have chosen their political and social regimes independently, in line with the historical, social, economic, and cultural conditions of Cambodia, as well as the evolution of the situation domestically and internationally," he said in his message posted on his Facebook page on Jan. 7.
Formerly a killing field, Cambodia has become a country adhering to the principles of democracy, the rule of law, peace, full territorial integrity, and a thriving economy, Hun Sen said.
"Cambodia stands on equal footing with other countries and can participate equally in all international affairs," he said. "These are the greatest and most precious historical achievements of all Cambodians of all races, creeds, religions, and political affiliations."
The prime minister called on Cambodians to unite as one to realize more achievements and to work together, maintain peace, protect its independence and all social achievements so that no individual, group, or foreigner can come and destroy Cambodia.
Related Articles