Third National Games Sharpen Preparations for 2023 SEA Games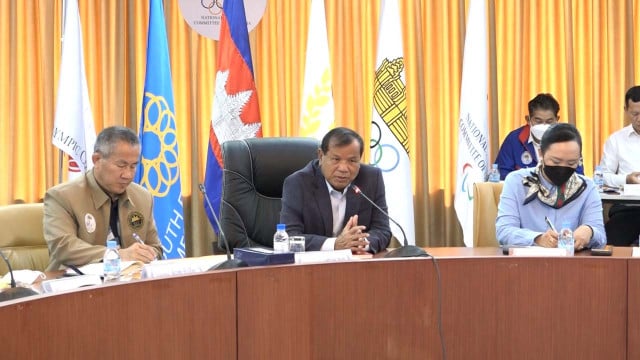 PHNOM PENH – Vath Chamroeun, secretary general of the Cambodian SEA Games Organizing Committee (CAMSOC), said that the upcoming 3rd National Games aim at sharpening the capability of Cambodia to host the 32nd Southeast Asian Games 2023 (SEA Games) following international standards.
The statement was made on Oct. 25, during a meeting held at the National Olympic Committee of Cambodia (NOCC) headquarters, where the preparations for the opening and closing ceremony of the National Games were discussed.

The 3rd National Games will be held at Morodok Techo National Stadium, from Nov. 21 to 30. It will feature 38 sports and seven paralympic disciplines, and it is expected that more than 40,000 people will attend the opening and closing ceremonies.

All the preparatory works have been divided among respective stakeholders so the competition complies with international standards. The organization of the 3rd National Games is seen as a rehearsal for the upcoming SEA Games, which will be held in Cambodia in May 2023.

It will be the first time the country hosts the regional competition. As a result, CAMSOC and Cambodia's sports federations want to avoid any misfires.

"This 3rd edition of the National Games is led by the Ministry of Education, Youth and Sports. The NOCC and CAMSOC have received a letter requesting cooperation so that the contest is in line with the level of international games," Chamroeun noted.

To end the competition on a high note, 500 Cambodian women will dance traditional Lam Leav and Saravan dances for the closing ceremony.

Heak Chhork contributed to the story.
Related Articles