ThmeyThmey25: E-Info Commerce to Market Cambodian Products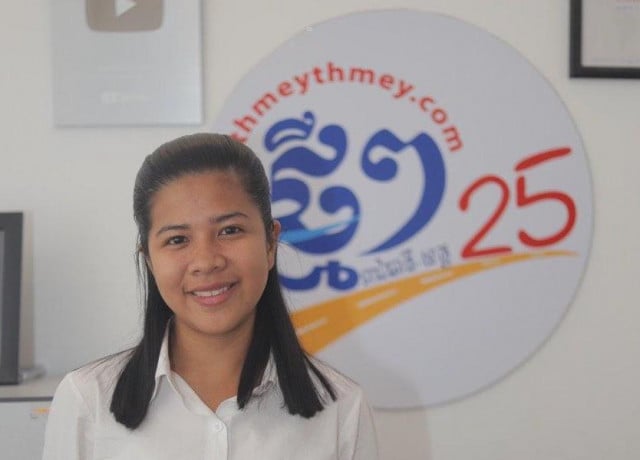 KY Chamna
June 8, 2020 4:49 AM
Women in leadership have become increasingly familiar figures who are crucial for the development of each and every sector. Their direct involvement represents a positive paradigm shift in the Cambodian social mindset in terms of women empowerment and gender equality. A package fund made available by the United Nation Development Program (UNDP) of Cambodia, has been granted to ThmeyThmey25 and several other media outlets for the purpose of developing their entrepreneurship. Nhek Sreyleak, a project holder and a deputy editor-in-chief of ThmeyThmey25—an online news platform that focuses on promoting small and medium-sized enterprises (SMEs) in Cambodia—explained in an interview how this funding, through ThmeyThmey25, may help improve local businesses in Phnom Penh as well as in the provinces.
Ky Chamna: Having been among the 37 applicants in this UNDP program, what is the aim of ThmeyThmey25 and why was ThmeyThmey25 selected to receive funding?
Nhek Sreyleak: All details of why we were selected—beside the fact that we met all requirements—were not spelled out by the fund provider. For ThmeyThmey25, our agenda, through the UNDP's fund that focuses on the development of young female entrepreneurs especially through social media, aims to support villages and communities by promoting local businesses or productions such as SMEs.
Ky Chamna: Who are some of the other finalists and what do you actually receive through this UNDP funding program?
Nhek Sreyleak: Some of the other finalists are "Dosslarb," which is involved in youth reproductive health, and 606 that focuses on podcast. Alongside the UNDP's fund, we have also been involved in a study facilitated by the SHE Investments team that concentrates on the fundamentals of businesses: the requirements, the goals and revenue management. The study generated ideas and recommendations, which enabled us to identify where we should make improvements and where we still are lagging behind especially for our own platform. Obviously right now, what we still lack is the sales and marketing team that we must organize. Furthermore, news content must be reinforced and produced in larger volume.
Ky Chamna: In relation to your plan and the UNDP fund, what are the reasons behind aiming to transform ThmeyThmey25 into an e-info commerce both for businesses and customers?
Nhek Sreyleak: According to our plan, the fund that we receive will be allocated to three main projects for ThmeyThmey25. First, to develop the sales and marketing team. Second, to build the information technology team. And third to purchase technical equipment such as cameras and computers. Regarding the sales and marketing team, the fund will be used for salaries. With this funding, ThmeyThmey25 plans to transform itself into e-info commerce: An online platform where identity products, SME products, tourism and agricultural products can be put on sales for customers. Apart from sales, ThmeyThmey25 provides news on an array of topics. Readers or, in another word, customers can enjoy reading news as well as purchasing products of similar kinds. Farmers and other local producers can commercialize their products on our platform. Our step early on is to cover news in targeted areas in the country. For example, if the readers want to know what Kampot Province or Siem Reap Province has to offer, we can provide them with news of where to spend their leisure time as well as where to find suitable accommodation. And then, we will try to connect producers, sellers and customers through our online platform where local sellers and producers can commercialize their products. Our ultimate goal is to transform ThmeyThmey25 into a central online database for each and every province and city in Cambodia.
Ky Chamna: Being 22 years old, handling this project is surely a demanding task for you. In an interview with the New Generation Business page, you mentioned that you came close to crying when you were assigned to this project. What prompted this?
Nhek Sreyleak: I used to cry. Sometimes, I think I am still very young. Why should I spend all my energy handling those complicated tasks while some other employees are doing jobs that are easier? But I consider this an opportunity. An indicator that tells me that I am trusted by the management team. So, I have to move forward by producing information, showcasing what ThmeyThmey25 is really about. Before being assigned to this project, I was simply a journalist. I did not realize how hard this was going to be. Now that I am handling this project, I have to continuously think of formulating new ideas, developing subject matters for others and find financial support. It is not like simply being a journalist or a reporter. I used to view this challenge as a "burden." But after being mentored by the senior journalists, I started to be more open-minded. Because of this, I have learnt a lot recently. I am becoming not just a journalist, but also an entrepreneur within the journalism sector. In the eyes of senior journalists, I have been seen as having capability and producing results, which helps me build communication.
Related Articles