Three Cambodian Artists Use Diverse Artforms and Techniques to Speak of Today's World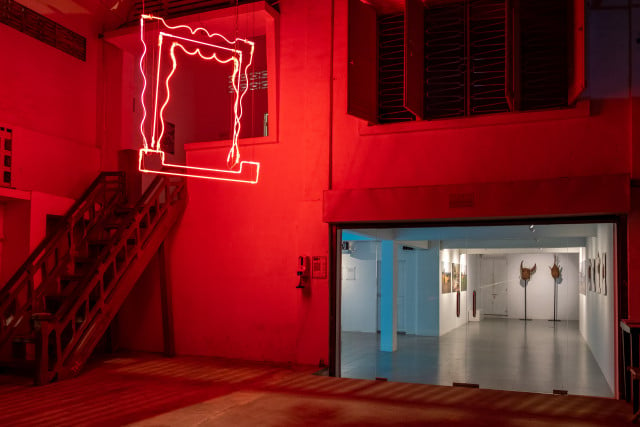 Through varied approaches, they look into some aspects of life in the country
PHNOM PENH—Sa Sa Arts Projects is holding an exhibition in Phnom Penh featuring the work of three artists rarely exhibited in Cambodia and who keep reinterpreting artforms. Using new or unusual techniques, they speak of topics ranging from Cambodians' beliefs to current issues and this, in ways that will intrigue people and may make them want to know more.
As explained Chum Chanveasna, manager of Sa Sa Projects, these artists tend to focus on art training and projects for young Cambodians and rarely exhibit their own work in the country. "I have known Khvay Samnang, Lim Sokchanlina and Vuth Lyno for a long time and I have followed their work since the beginning," she said. "Their artworks are exhibited internationally but not much in their own country. So, I proposed to them to hold their first group exhibition."
As a result, the three artists are currently exhibiting at the art space they founded, Sa Sa Art Projects, which was first launched in 2010 at the White Building in Phnom Penh and moved to its current location on Street 350 in 2017.
Their exhibition, which runs through March 31, is entitled Mchas Teuk Mchas Dei, that is, Master of Lands and Waters.
"Their artworks strongly bring to the fore the interaction and complex relationships between nature and the supernatural, humans and non-humans, the tangible and the intangible, and between states, which continue to shape politics, economies, cultures, traditions, livelihoods, and essentially social structures," Chanveasna said.
And the three artists are doing so by using atypical approaches and techniques.
Exploring an Old Tradition
What visitors first see upon arrival at the art space is a red neon installation of artist Vuth Lyno in the building's front yard, facing the exhibition room. It outlines in light, he said, "a chumneang pteah, or spirit house [that is] the spirit who protects the house." Red as a rule, he said, "[it is] placed on the ground in the first room of a house [and] usually faces out to the entrance door, greeting guests.
"The neon installation is suspended high and tilting downward as if it's flying from above," Lyno explained. "[With] its position and the surrounding space, it transforms, creates a new dimensional field that, I hope, heightens the confrontation between the audience and the spirit house." As people move around the sculpture, the outline loses its shape, becoming fragments of light. "I'm interested in playing with perception and vision," Lyno said. "And in this case, I'm curious: If a house disintegrated, where would the spirit be?"
Bringing attention to workers with little or no way out
Another work in the exhibition is a video projected on a large screen and featuring a diver standing at the bottom of the ocean with a document in his hand.
"I wrote the letter and read it under the sea at Koh Kood Island, which is located along the sea border between Cambodia and Thailand," said Lim Sokchanlina whose artform is mainly photography. "The letter tells the stories of three Cambodian fishermen who are suffering while working in the Thai fishing industry." According to numerous Cambodians who went to work on fishing boats in Thailand, hoping to emerge from poverty, working conditions on these boats virtually amount to slavery.
"I want to raise awareness of the world, so they care more about the suffering of these fishermen in Thailand [who include] not only Cambodians but also people from Laos and Myanmar," Sokchanlina said. Also on exhibit are documents, books and photos he found while researching these workers' situation.
Art Reflecting Geopolitics
The works of Khvay Samnang combine multiple elements: performances by dancers trained in Khmer classical dance, sculpted masks, plus video and photographs taken on location.
The series was inspired by the fact that people in Cambodia as well as in China believe in dragons, Samnang said. "This work is meant to show the close relationship between China and Cambodia in terms of geography mapping as well as development areas and future development areas," he said.
The photos were taken prior to COVID-19 during live performances of the dance "Popil," which was inspired by his concept. The dancers were part of the dance company of Khmer classical dancer and choreographer Sophiline Cheam Shapiro in Phnom Penh, he said.
The masks they wore during the performance, Samnang said, "are made from woven fishing vines that people normally use to make fish traps. The two masks are of dragons to express the relationship between Cambodia and China.
"We performed in many different places from north of the country: a rubber plantation in Ratanakiri Province, along the Sesan River in Stung Treng Province, along the Mekong River in Kratie province, Phnom Penh and…in the south of the country, Sihanoukville and Koh Kong Province," Samnang said.
The exhibition features two masks used during the dance as well as photos of the dancers performing in natural settings on the banks of rivers and lakes.
Artists featured more often abroad than at home
As Chum Chanveasna mentioned, the three artists who work on art training and projects in Phnom Penh are often involved in international projects.
Khvay Samnang, whose work has been exhibited from Berlin to Singapore, Tokyo to Sydney, had a solo exhibition in Glasglow, in Scotland, in 2021.
Vuth Lyno, who had one of his installations exhibited in Bangkok in 2021, has also taken part in exhibitions in several countries including Australia, China and Poland.
Lim Sokchanlina, whose book "National Road Number 5" was recently released in Great Britain and Cambodia, has also had his work shown in a number of countries including Canada, the Philippines and South Africa.
Still, a great deal of their time is spent working at Sa Sa Art Projects whose goal is to help support Cambodia's next generation of artists, as Chum Chanveasna, explained.
Their exhibition "Mchas Teuk Mchas Dei," or "Master of Lands and Waters," runs through March 31.
Sa Sa Art is located at 47 Street 350 (off Street 95) in Phnom Penh.
For more information: https://www.facebook.com/sasaartprojects and https://www.sasaart.info/about.htm
Related Articles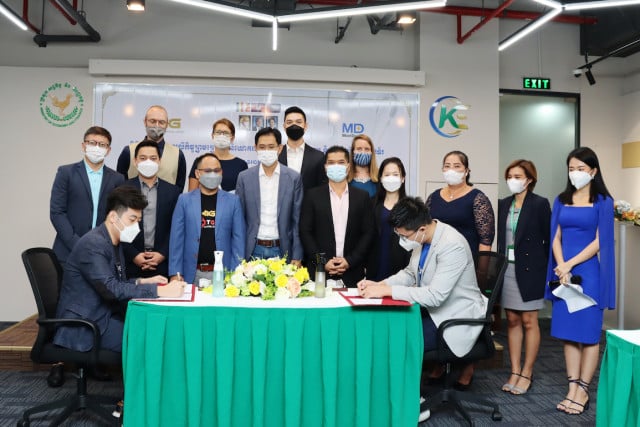 January 15, 2022 12:36 PM