Three Cambodians Test Positive after Returning from China and Japan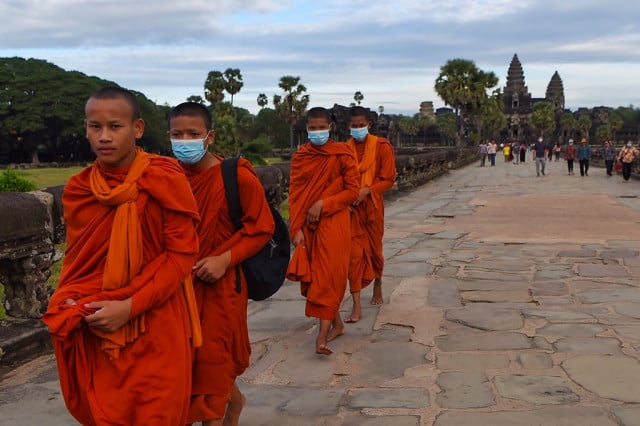 As more imported cases arrive in Cambodia, the Ministry of Health is still tracing contacts related to the Nov. 28 community outbreak, with 8,212 people tested so far.
PHNOM PENH--Two Cambodian men and one Cambodian woman returning from abroad have tested positive for COVID-19, according to a Dec. 2 statement from the Ministry of Health.
The two men, one 26-year-old from Kampot Province and a 46-year-old from Kandal Province, both arrived in Cambodia on Nov. 18 from Japan via South Korea.
The woman is a 35-year-old resident of Kampot Province who returned from China also on Nov. 18, but all three patients tested positive for the virus on their second test—13 days into their mandatory 14-day quarantine period. They are now receiving treatment at Chak Angre Referral Hospital in Phnom Penh.
The remaining 209 passengers have initially tested negative and will finish their quarantine period.
According to the Health Ministry, 8,212 people have been tested for COVID-19 in relation to the Nov. 28 outbreak, with 17 of them so far testing positive.
Leng Peng Long, Secretary-General of the National Assembly, sent a letter to the Minister of Health Mam Bun Heng on Dec. 1 requesting medical examination measures for more than 100 lawmakers who were suspected to be involved in the Nov. 28 community event.
He called on those members of parliament to go into self-isolation for 14 days.
Aeon Mall 1 in Phnom Penh, which closed after the wife of the Prison's Department director visited while displaying COVID-19 symptoms, has announced that it will resume operations on Dec. 2, with everything open as usual by 3 p.m. but with additional safety measures.
As has been the case since the pandemic began, shoppers will have their temperature checked and those with a body temperature above 37.5 °Celsius will be refused entry. All shoppers will be required to wear a mask, wash their hands and maintain a safe distance of 1.5 meters from other shoppers.
As of the morning of Dec. 2, Cambodia has reported a total of 329 cases, of which 25 remain active, but no official deaths related to COVID-19 have been recorded.
Related Articles