Three Critically Endangered Giant Ibis Killed Illegally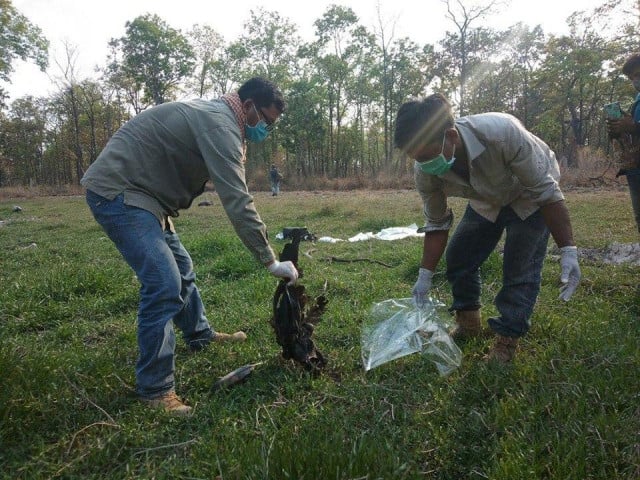 Phoung Vantha
April 17, 2020 10:00 AM
As Cambodia's national bird and one that has been categorized as critically endangered, Giant Ibis numbers are dipping as experts warn COVID-19 could embolden poachers.

PHNOM PENH--Three critically endangered Giant Ibis – Cambodia's national bird – have been killed in a protected area, according to the Wildlife Conservation Society (WCS).

"The incident was detected on April 9, 2020 in Chhep Wildlife Sanctuary, Preah Vihear province. The birds were killed illegally for their meat, which would have been consumed locally or sold on the market," WCS said.

The Giant Ibis Thaumatibis gigantea is Cambodia's national bird and has been classified as critically endangered globally. It has since been a protected species in Cambodia. Although it was formerly widespread in Southeast Asia, the Giant Ibis can now only be found in Cambodia, where there are thought to be less than 300 individuals remaining, WCS said.

The Coronavirus Disease 2019 (COVID-19) pandemic is giving poachers free reign – hurting species and hurting local economies, WCS said.

In addition to the Ibis poisoning, more than 100 Painted Stork chicks were poached in late March at Cambodia's Prek Toal Ramsar Site, the largest waterbird colony in Southeast Asia.

WCS said that the three Giant Ibis that were killed were equivalent to 1-2 percent of the global population. This, WCS notes, is part of a disturbing global trend where conservationists are noticing increases in hunting of protected species since the spread of COVID-19 began to disrupt traditional economic and social systems in rural areas.

Said Colin Poole, WCS Regional Director for Greater Mekong region said that rural people suddenly have little to turn to but natural resources, adding that WCS has recorded a recent spike in poaching.

"The continued commitment of conservationists to local people in rural areas across the region is more important than ever right now, as they have no safety net and are alone on the front line, the first and last line of defense for the forests and wildlife in and around their communities," he said.

In March 2020 four environmental activists were arrested in Prey Lang forest after they were accused of trespassing by security guards employed by Think Biotech, a biopharmaceutical company thought to be committing illegal logging in the 37,000 hectare forestry concession they were granted by the government. This is the latest in a string of incidents that have seen environmentalists and conservationists harassed by private companies with connections to the government, making the practice of defending Cambodia's natural resources ever more risky.

Giant Ibis inhabit remote deciduous forest in the lowlands of the Northern Plains and Eastern Plains. Chhep Wildlife Sanctuary and the adjacent Kulen Promtep Wildlife Sanctuary in the Northern Plains of Preah Vihear Province under the jurisdiction of the Ministry of Environment supports at least one third of the global population of the species, according to WCS.

Since early February 2020, Community Protected Area patrol teams and Provincial Department of Environment rangers have taken action against 12 cases of bird hunting using poisons in the Northern Plains, WCS added.

Not only Giant Ibis, but victims have also included globally threatened White-winged Duck and Sarus Crane, as well as many other species. Poachers place carbofuran-based poisons, which are particularly lethal to birds, in trapeangs (waterholes) and collect the dead birds.

Thousands of international tourists have visited the Northern Plains to see Giant Ibis in past decade, paying over $100,000 into a community fund linked to sightings of this species in the process. If there is no Giant Ibis in Cambodia these tourists will not visit the Northern Plains.

"The loss of these birds would mean the loss of an important source of income to local people," WCS said.


Related Articles