Three Journalist Associations Call on Court Prosecutors to Drop the 2017 Case against Two Journalists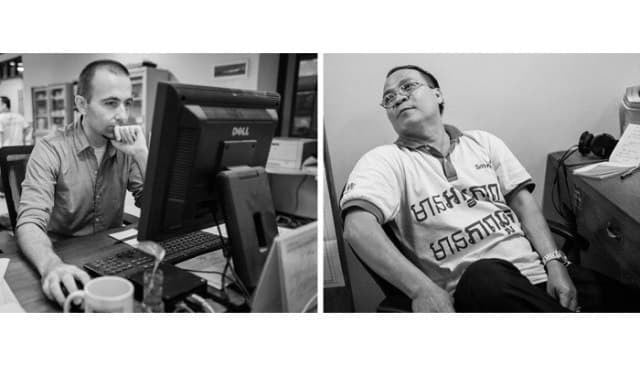 Phoung Vantha
February 25, 2021 11:24 AM
The plaintiff has also withdrawn its complaint and Ratanakiri Province court has dropped the case
PHNOM PENH--Three journalist associations on Feb. 25 appealed to court prosecutors to present evidence that two former journalists of The Cambodia Daily in 2017 had been guilty of "incitement to commit a felony" or to drop the case.
"In November [2020], the Ratanakiri Provincial Court dropped the charges against them as the plaintiff withdrew his complaint," they said in a statement. "Why has the prosecutor appealed the court's decision?"
The statement of the Cambodian Center for Independent Media (CCIM), the Cambodian Journalists Alliance Association (CamboJA) and the Overseas Press Club of Cambodia (OPCC) refers to a case filed in 2017 against Cambodian journalist Aun Pheap and Canadian journalist Zsombor Peter regarding their visit to villages in Ratanakiri Province as part of the election news coverage prior to the 2017 commune elections.
"We had gone simply to find out what was on the minds of registered voters as the polls approached," Peter said in an interview to the Canadian newspaper Globe and Mail in December 2019. "We spent most of a day interviewing villagers in Pate commune [O'yadav district] at random about their political leanings and related thoughts and concerns."
The two journalists worked for The Cambodia Daily newspaper that shut down in Sept. 2017, facing threats of closure and legal action linked to a tax bill. They both live outside Cambodia.
"We call on prosecutors to present any evidence they may have that would prove the journalists' alleged guilt of the crime of 'incitement to commit a felony,' or otherwise drop the appeal to continue the case," the journalist associations' statement read.
Ministry of Justice spokesperson Kim Santepheap responded that the journalist associations should tell him in which countries prosecutors have to present the evidence and facts of a case to the media before the prosecution process starts.
The journalist associations' appeal amounts to attempt to interfere in the affairs of the court, which is an independent Cambodian institution, he said.
Related Articles